Steel Products Prices North America
SMU Spotlight: Meet Eric Daniel, a NexGen Skydiving Champion
Written by Becca Moczygemba
February 19, 2023
---
Helping out with chores as a kid is something many of us do. But how often do your chores lead to a life-long career? 
Eric Daniel, general manager of Metalwest locations in Colorado, New Mexico, and Arizona, took doing chores to new heights. Steel Market Update interviewed Eric and learned how he's made his career soar. 
The full text of the interview is below. 
Eric Daniel: I started in the industry when I was 14.
Steel Market Update: Wait, what? Aren't there child labor laws?
ED: Yeah. I was the Broom Manager. I swept the floor.
SMU: Ah yes, very important position. Ok, we must get the background on this.
ED: So what happened is, my dad worked for a garage door manufacturer for a long time, Clopay. Then after about 25 years at Clopay, (he) went to work for Owens Corning. He was commuting between Indiana and Ohio and would be gone every week, so eventually he left and was looking for a new job. A friend of his went to him and mentioned he was interested in starting a fab shop, so my dad bought in, and they became business partners. Then, you know, that meant I had a job. And to my dad's credit, he had me work for the shop foreman, not for him.
SMU: Ok, that makes sense.
ED: I went from sweeping floors to eventually running equipment to, you know, really working my way up. I drilled holes for a long time and then I ran a saw, then I ran a laser. I continued into college and worked while I went to school. I remember telling my dad when I worked there that I didn't want to do that for a living. Now, I look back, and I'm 100% my dad. I couldn't be prouder. It's the greatest thing ever to be like him.
SMU: That's awesome. How'd you get the job you're in now?
ED: After college I got a job working in fiber optics manufacturing in Montana. I did that for five years then moved to Denver and worked in supply chain development and bought aluminum tubes. About 7.5 years ago I started at Metalwest. I've had such a great career. My passion is skydiving, and I've worked for companies who have been very supportive of it.
SMU: I hear you're pretty good at jumping out of planes.
ED: This past year I became national champion, and it's taken 10 years to get here. But because I have such a good career and can balance work and my passion of skydiving.
SMU: It sounds like you have a great work-life balance.
ED: I won the NexGen award two years ago. I really wanted to create a group and to further that platform. I'd like to be an example for people who feel like they want nothing to do with the steel industry, to see how awesome it can be. And I'm passionate about it. And I believe there's change that needs to happen in the industry, and I want be part of that.
SMU: What changes would you like to see?
ED: For one, the perception. I think the industry is viewed as dirty and old school. But it's amazing. We take rocks from the earth, we melt them at high temperatures, and then at the end of it, you get a can or a truck. It's everywhere.
SMU: NexGen is great! I'm hoping it will help to drive more mentorship within organizations.
ED: I think that's definitely a big piece of it also. It is about empowering the next generation, right? That's a piece of it. My strong desire is that we help people balance their life with … how they work. And I think if you put people first, then you you'll have long term buy in and you'll have a belief in a company.
SMU: You just got a promotion, didn't you?
ED: I did. I'm the general manager now.
SMU: How did that come to fruition?
ED: I started here as the supply chain manager. Along the way, I applied to be general manager four times. And every time I was told, here's the next thing you need to do. What is impactful about that is, I was shown a path to get to where I wanted to be. Honestly, within the first six months of of working in this job, I told the CEO I want your job.
SMU: Bold move.
ED: Yes, but he took interest in that and said "OK, let's figure that out." Here's the steps. And that was a big deal. And I had people who cared about my career trajectory because of it. So then when this job surprisingly came available a couple months ago, I walked in and had conversations with our leadership team. All of them agreed that I'd done all of the work to get to this point. They said "Ok, this one's yours."
SMU: Now that you're in this position, how can you encourage others on the same level to recognize the benefits of NexGen?
ED: If you're looking at it from the perspective of current leaders, I think it's helping them create opportunities for their employees to take over the company in the future. If you don't foster those people, they're going to go work somewhere else. And my situation is a great example of if you foster someone and create a future for them now, then they can become a great leader later.  I didn't step into this role today. I stepped into this role seven and a half years ago when I started it in this company, because someone took an interest in helping me grow. To me, that's the same as NexGen.
SMU: Like taking someone under your wing and mentoring them, showing them the ropes. Even showing them how to network at conferences and interact at events.
ED: We need to nurture and grow the community. It's not about ostracizing one group but bringing everyone together and adding value.
SMU: What's next for you and Metalwest?
ED: We're part of the NIM group. Everything goes back to Norfolk Iron and Metal. Metalwest processes and sells flat-rolled products, but we sell everything. Long products, tubing, rebar, you name it. If it's made from steel, we likely sell it. We have a lot of processing equipment. We have a brand-new line up in Windsor, Colorado. It's a ¼ inch, 72-inch-wide clean line, so we'll run all sorts of products on that. We've been around for over 100 years, and we're heavily committed to investing in the needs of our customers.
SMU: And one day you'll be CEO?
ED: That's my goal!
By Becca Moczygemba, becca@steelmarketupdate.com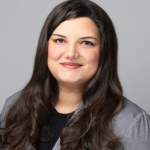 Latest in Steel Products Prices North America