Steel Mills
Olympic Q4'22 Earnings Fall as Growth Eyed in '23
February 24, 2023
---
Olympic Steel's earnings tumbled in the fourth quarter, but the company remains focused on growth opportunities in 2023.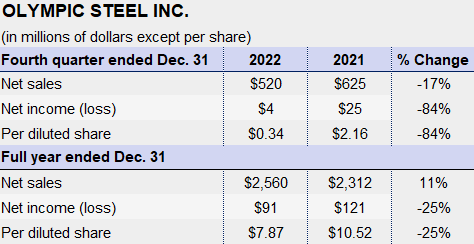 The Cleveland-based service center reported net income of $4 million in the fourth quarter ended Dec. 31, down 84% from $24.9 million a year earlier on net sales that fell 17% to $520 million.
However, for full-year 2022 the company reported the second most profitable year in its history. (See earnings table for results.)
"Olympic Steel delivered another year of extraordinary performance in 2022, capped off by a strong finish in the fourth quarter," CEO Richard T. Marabito said in a statement.
"Our team weathered ongoing economic pressures and a historic decline in metals pricing to record the second-most-profitable year in company history, with our specialty metals and pipe and tube segments hitting all-time profitability highs," he added.
Marabito also noted that the company had improved its growth position, citing its acquisition of Wichita, Kan.-based Metal-Fab in January for $131 million. The deal was the second largest in Olympic's history and its sixth acquisition in the last five years, he said.
Olympic president and COO Andrew Greiff also touted the Metal-Fab buy in an earnings conference call with investors on Friday. 
"This acquisition provides a solid platform for accelerating growth in three of our target market segments: carbon and coated, stainless, and aluminum," he said. 
Factoring into Greiff's outlook was infrastructure. "Looking forward, we expect to be an indirect beneficiary of the increase in infrastructure spending, which will be good for the steel industry as a whole," he said. 
In the fourth quarter, Olympic sold 187,110 tons of carbon flat products, down 3% from 192,545 tons in the same year-ago period. The average selling fell 24% to $1,444 per ton from $1,910 per ton in the same comparison.
For specialty metals flat products, the company sold 31,073 tons in the quarter ended Dec. 31, a drop of 10% from 34,529 tons a year earlier. The average selling price per ton rose 14% to $5,190 in the fourth quarter from $4,553 in fourth-quarter 2021. 
Tons sold and average selling price per ton were not available for tubular and pipe products. However, Greiff noted that the pipe and tube segment contributed adjusted ebitda of $6.3 million in the fourth quarter, a record for the segment.
By Ethan Bernard, ethan@steelmarketupdate.com
Latest in Steel Mills