Steel Markets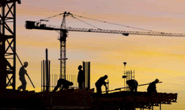 Dodge Momentum Index Falls to Lowest Level in Eight Months
Written by Laura Miller
May 8, 2023
---
The Dodge Momentum Index (DMI) declined for the second month in a row in April as office, hotel, and retail planning activity showed weakness, the latest data from the Dodge Construction Network (DCN) shows. The reading is at its lowest level in eight months.
April's DMI declined 5.1% to 180.9 from the revised March reading of 190.6. March's DMI was higher than the initial reading of 183.7, but still lower than February's reading of 201.0. This April's DMI remains 11% ahead of last year's April reading.
Sluggish activity in office, hotel, and retail planning pulled down the commercial building component of the DMI, which fell 8% from March to 205.4 in April.
Weak education planning offset growth in healthcare and amusement projects, DCN said, resulting in relatively flat growth in the institutional component of the DMI, which inched up by just 0.4 points to 150.5.
"On par with our expectations, the Dodge Momentum Index continued to recede in April, due to declining economic conditions and ongoing banking uncertainty," commented Sarah Martin, DCM's associate director of forecasting.
"Weaker commercial planning is driving the DMI's decline, as it is more exposed to real-time economic changes than the largely publicly funded institutional segment," she noted.
Sixteen projects with a value of over $100 million entered planning during the month of April, DCN said.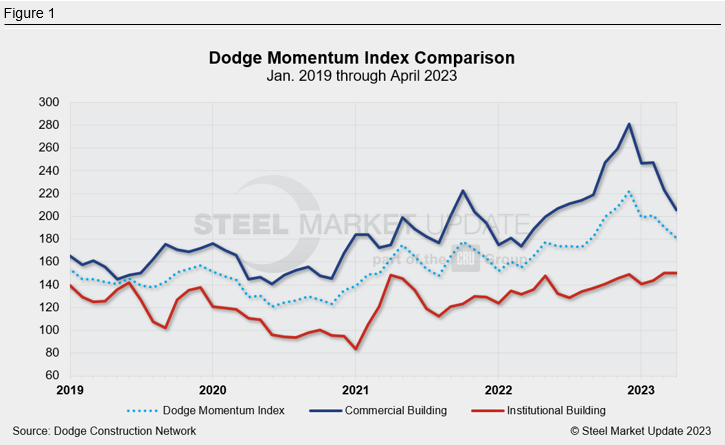 Dodge is the leading index for commercial real estate, using the data of planned nonresidential building projects to track spending in the important steel consuming sector for the next 12 months.
An interactive history of the Dodge Momentum Index is available on our website.
By Laura Miller, laura@steelmarketupdate.com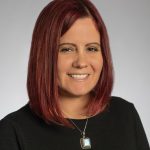 Latest in Steel Markets