Steel Mills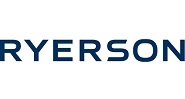 Ryerson Q2 Earnings Dip, Demand Seen Weakening
July 31, 2023
---
Ryerson said it expected demand to weaken in the near term after it reported a slump in second-quarter earnings.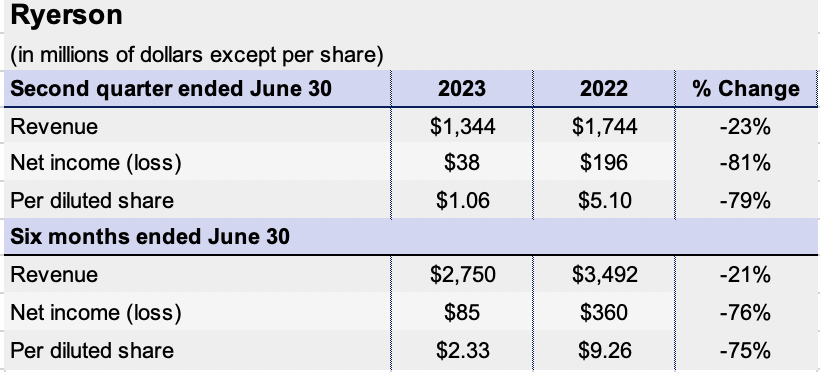 The Chicago-based service center group reported net income of $38 million in Q2'23, down 81% from $196 million a year earlier on revenue that fell 23% to $1.34 billion.
"Shifting consumer spending patterns, higher interest rates, quieted but still present financial system stress and tightening, as well as an economic recovery in China that has failed to materialize, all contributed to a subdued manufacturing macro environment during the quarter," Ryerson president and CEO Eddie Lehner said in a statement on Monday, July 31.
"As we have during past counter-cycles, we will take out non-value-added costs, flex expenses down, and better optimize our industrial metals inventories as we move through the third quarter and back-half of the year," he added.
Carbon steel shipments fell 6% year over year in Q2 to 384,000 tons as average selling prices decreased 20% to $1,779 per ton in the same comparison.
Aluminum shipments remained steady at 51,000 tons in Q2 vs. the same period last year as average selling prices dropped 14% to $5,824 per ton.
Stainless steel shipments of 59,000 tons in the quarter dropped 6% year over year, while average selling prices slid 22% to $5,729 per ton.
Looking ahead, Ryerson expects slowing demand conditions to continue in Q3'23, with customer shipments seen falling by approximately 2% to 4% sequentially.
Additionally, the company said it anticipates Q3 net sales to be in the range of $1.25 billion to $1.3 billion, with average selling prices decreasing 1% to 2%.
Ryerson has approximately 100 service center locations through the US, Canada, Mexico, and China.
 By Ethan Bernard, ethan@steelmarketupdate.com
Latest in Steel Mills