Steel Products
SMU Steel Buyers Sentiment Index & Price Momentum Indicator
Written by John Packard
August 12, 2013
---
Twice per month Steel Market Update (SMU) surveys the flat rolled steel market in order to gage market trends, pricing and Sentiment within the steel community. Since November 2008 SMU has been measuring Steel Buyers Sentiment.  The resulting index is measured on a
zero to plus 100 (+100) scale for those who are optimistic about their company's ability to be successful in the current market environment and zero to minus 100 (-100) for those who are pessimistic regarding their company's ability to be successful.
During the first week of July SMU measured Sentiment at +38 and later during the month we recorded Sentiment as being +37.  The average for the month was +37.5, which is the most optimistic month so far this year and the best monthly average since February 2012 when Sentiment was measured at +42.
Indices can vary from week to week and month to month. In order to smooth out the data we use a 3-month moving average to get a more accurate view of the trend in Sentiment. The 3MMA is now +27.67 which is up from the +21.83 measured in the middle of June and the +17.67 measured during the middle of May. 
Historically, Steel Market Update has found Sentiment improves as flat rolled steel prices rise. The graphic provided shows the relationship between benchmark hot rolled pricing and SMU Steel Buyers Sentiment Index.
The items of concern, referenced during the survey process by those leaving comments, were related to the continued weakness in commercial construction as well as a concern related to tighter margins due to the higher prices and competition.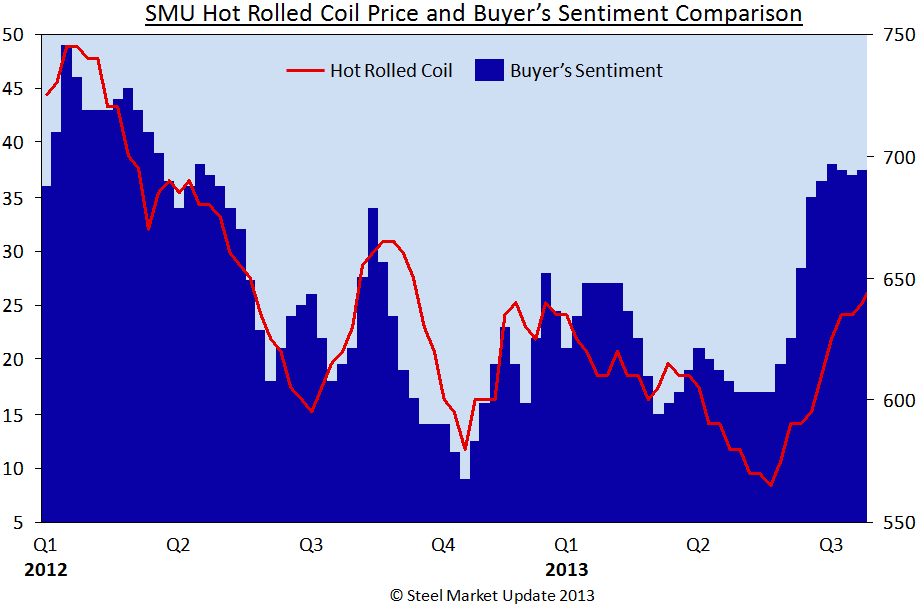 On the positive side comments were left regarding the strength of the automotive market and the anticipation of excellent agriculture business due to strong crops. The Ag business should lead to stronger grain bin, feed bin and equipment sales later this year and into next year.  
 

Latest in Steel Products