Steel Products
Caterpillar: "2013 turning out to be a tough year…"
Written by John Packard
August 13, 2013
---
Written by Sandy Williams
Caterpillar Inc. reported second quarter sales and revenues of $14.621 billion, down 15.8 percent from $17.374 billion in the second quarter of 2012.  Net profit plunged 43 percent to $960 million in the second quarter of 2013, from $1.699 billion in the second quarter of 2012.
In a revision of the 2013 outlook, Caterpillar expects sales and revenue for the year to be in the $56 to $58 billion range, down from a previously forecasted range of $57 to $61 billion.
"Overall end-user demand is similar to our previous outlook, but we now expect a more significant reduction in dealer machine inventory," said Caterpillar Chairman and Chief Executive Officer Doug Oberhelman. "That's the main reason for the reduction in the sales and revenues outlook.  During the second quarter, dealers increased their utilization of inventory from our product distribution centers, which allows them to meet customer demand with less inventory. 
With the sharp reduction in dealer inventory and the decline in mining, 2013 is turning out to be a tough year and we've already taken action to reduce costs.  During the first half of the year, we've had temporary factory shutdowns, rolling layoffs throughout much of the company, reductions in our flexible workforce, and we've reduced discretionary and program costs.  While we've taken significant action already, we will be taking additional cost reduction measures in the second half of 2013."
Lower production and divestitures, caused reduction of 10,432 employees in Caterpillar's worldwide full-time workforce, and 9,633 in the flexible workforce, for a total decrease 20,056 employees in the past 12 months. 
Why does the steel industry care about Caterpillar?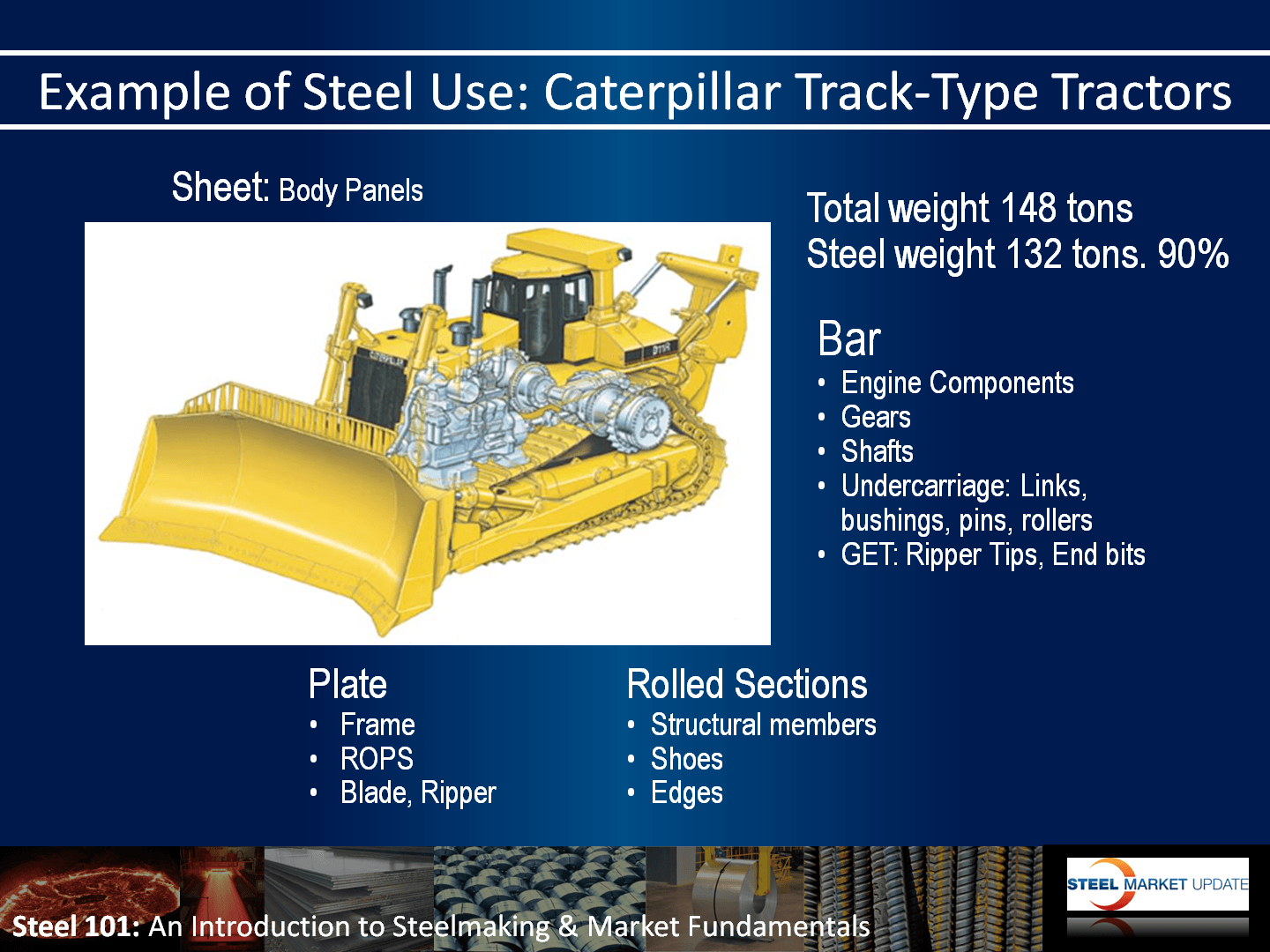 Slide above is used in our Steel 101: Introduction to Steelmaking & Market Fundamentals Workshop.

Latest in Steel Products