Steel Mills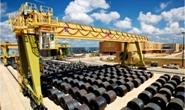 SDI Reports Strong 3Q Results
Written by Sandy Williams
October 17, 2013
---
Steel Dynamics reported a strong third quarter net income of $57 million on net sales of $1.9 billion. In comparison, SDI reported $13 million net income on net sales of $1.7 billion in September 2012, and $29 million on net sales of $1.8 billion in second quarter 2013. 
"Our consolidated operating income increased 64 percent to $113 million for the third quarter 2013, as compared to the second quarter of this year," said Chief Executive Officer, Mark Millett. "Stronger steel sheet pricing combined with increased overall steel shipments, provided significant improvement to our third quarter financial results, as operating income from our steel operations sequentially increased $61 million. 
Product shipment overall increased from second quarter. SDI's steel segment reported operating income of $149 million, an increase of 69 percent from second quarter, due to higher steel selling prices and a slight decrease in average scrap costs. Steel mill utilization was at 89 percent compared to 83 percent in the second quarter. Selling price per ton increased $13 to $794 per ton in the third quarter, however, the average selling price for the year to date is $733/ton, a decrease of $59 per ton year-over-year. 
Earnings for the metals recycling segment decreased to $11 million in the third quarter from $16 million the previous quarter. Reduced earnings were attributed to decreased average ferrous metal spreads which offset an increase in volume. 
The impact of losses from SDI's Minnesota operations, including Mesabi Nugget, were $10.6 million on consolidated net earnings, compared to losses of $9.3 million in the second quarter. SDI says production rates at the iron nugget plant improved in the third quarter but unexpectedly resulted in lower product yield. SDI expects the facility to breakeven on a monthly cash basis by the end of 2013 but will not achieve pre-tax breakeven during that period. 
SDI is on schedule to complete in 2013 a 325,000 ton capacity expansion with the addition of a second rolling mill at its Pittsboro engineered bar products division. A product capability expansion at its structural and rail division, to be completed by the end of this year, is expected to bring 300,000 tons of premium rail to market by 2015. 
"We are optimistic, as the demand for high-quality steel products continues to improve," said Millett. "The automotive market remains strong, and manufactured goods continue to strengthen. We remain cautiously optimistic about the nonresidential construction market, as evidence of increased demand is shown by improved shipments of our structural and fabricated steel products."

Latest in Steel Mills