SMU Data and Models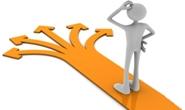 SMU Price Momentum Indicator Continues at Neutral
Written by John Packard
October 22, 2013
---
On August 23rd Steel Market Update adjusted our Price Momentum Indicator from Higher to Neutral. Since that time benchmark hot rolled prices have been within $5 per ton (+/-) of $640 per ton until this past week when prices rose by $15 per ton. Essentially, we began capturing transactions and offers related to the price increase announcements made by the domestic mills during the week beginning September 30th. At that time spot hot rolled base prices were increased to $33.50/cwt-$34.00/cwt ($670-$680 per ton).
We have a number of items which could impact pricing and move the numbers higher over the next few weeks. They include forecasted higher scrap prices of approximately $20 per gross ton and tight inventory levels at service centers.
On the flip side, we anticipate higher foreign shipments as the spread between domestic and foreign pricing is growing. We understand that Korean hot rolled is available into Houston for approximately $580-$610 per ton and the Russians are at the low end to about $10 per ton lower than the Koreans. One of our sources described the situation as one where "traders tell me they are filling up boats."
We also have more supply coming back online as maintenance issues are resolved and USS Lake Erie comes back online.
The wild card at the moment is management at the various domestic steel mills. We have new management at U.S. Steel and Severstal with others making changes in the commercial departments. Can or will the new management insist on holding the line on pricing even if it hurts their order books? 
We are beginning to see signs of some weakening in the resolve at a few of the steel mills. A Midwest based service center executive provided SMU with the following description on the market:
"Between the end of last week and the beginning of this week we are finding some weakness in the mill's resolve on pricing. It is not a major shift but essentially they are more interested in meeting a competitive quote than they might have been in the last couple of weeks.
The flexibility on price is in the $20-30 range off the latest price announcements (we consider CR and Galvanized at $39 and not $39.50). We think there will be some further slippage until December is filled at most of the mills. Current lead times on hot rolled are in the mid November range and cold rolled at early December. Our limited success so far has been based on a promise of "X" tons at a specified price on hot rolled and cold rolled. We are not asking an open-ended question, "What's your price today?"
The key here is to watch the mills order books as they push to fill out late November and December tonnage. Our expectation is for prices to continue to tread water at the new levels over the next few weeks.  Prices could slip as the mills move to fill their order books through the end of the year and once done we would anticipate a new push to move prices higher.
Prices have moved about $10-$20 higher than where they were for most of August and September. We are not yet convinced they can continue to move much higher from here until we get through the end of the year bookings. Therefore, we are keeping our SMU Price Momentum Indicator at Neutral.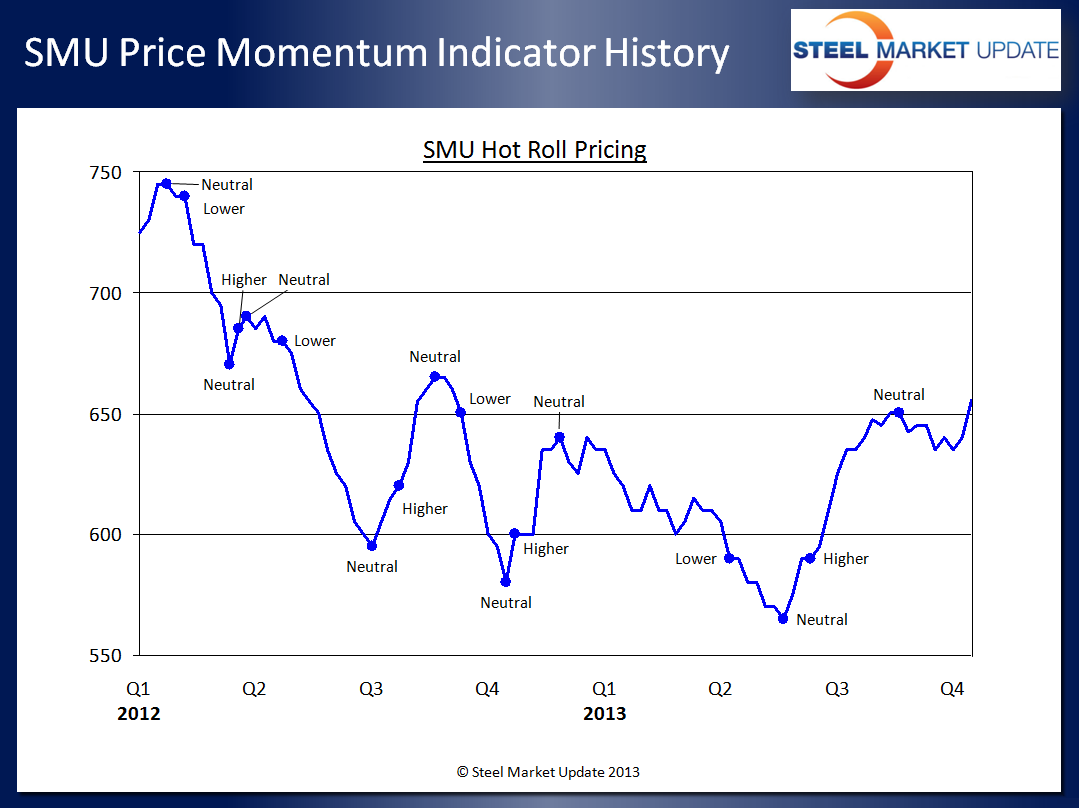 Latest in SMU Data and Models