Steel Mills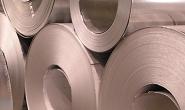 Reliance Sales Rise Due to Metals USA
Written by Sandy Williams
October 24, 2013
---
Reliance Steel & Aluminum increased sales 18.9 percent to $2.44 billion in the third quarter 2013 from $2.06 billion in third quarter 2012. Tons sold were up 31.3 percent year-over-year to 1.45 billion tons.  Net income was $95.1 million, down 3.1 percent from $98.1 million in the third quarter of 2012 and up 17.4 percent from $81.0 million in the second quarter of 2013.  Year over year earnings dropped due to lower average selling prices in 2013. Metals USA continued to improve its profit margin and add to Reliance's net sales. 
"Overall demand in the third quarter was a bit better than anticipated with third quarter tons sold up 2.0% compared to the prior quarter," said David H. Hannah, Chairman and CEO of Reliance. "Although a significant portion of the increase was due to an additional two weeks of Metals USA activity in the third quarter, our same-store tons sold were up 0.4%. The normal seasonal trend is for third quarter demand to be down from second quarter; however, our 2013 second quarter demand was lower than expected." 
Average selling price per ton in the third quarter was down 2.3 percent from the prior quarter, and down 9.5 percent compared to third quarter 2012.  
Greg Mollins, president and COO, commenting on flat rolled price increase, said, "In the last 4-6 weeks these increase have actually received some positive traction. A combination of numerous outages and production issues in the third and fourth quarters, coupled with low inventories helped give some momentum to these increases." 
When asked if lean inventory would support another increase on carbon flat roll Mollins replied, "We are frankly anticipating that the mills might throw out another increase prior to the end of the year.  And it certainly helps their position with the service center inventories being as low as they are." 
"The inventories are low compared to historical levels but they are probably about right compared to what demand is," said Hannah.  "So if there is an increase, in order for Reliance to want to buy more inventory we are going to have to be convinced that our demand is going up.  And we hear a lot about stocking and destocking and restocking and that is not something we really embrace here.  We will buy more when our order book gets more full.  And so I think the one thing that can improve pricing really across any product you want to talk about, but we are talking about carbon flat roll, is really an improvement in demand.  In order to get sustained price increases that will stick, we need better demand." 
Looking forward, Reliance said Automotive and Appliance, through the Company's toll processing operations in the US and Mexico, remained strong in the third quarter and is expected to continue through 2013 and 2014. 
Aerospace suffered declines in price and volume but the sector remains relatively strong and is expected to improve in 2014 with some pricing pressure on aluminum due to excess capacity. 
Energy (oil and gas) product sales were good but demand was somewhat lower than 2012. Reliance expects demand to improve but with pressure on pricing due to excess industry capacity. 
Heavy industry demand is expected to have a seasonal decline in the fourth quarter. The slowdown for mining equipment is expected to continue for some time. 
Non-residential construction demand is still down but continues to show signs of a slow but steady improvement. North American manufacturing and energy construction showed the most improvement in the third quarter. Reliance is cautiously optimistic that non-residential demand will improve modestly in 2014 and 2015. 
"The Company expects that global economic and political uncertainty, complicated further by political issues in the U.S., will continue to present challenges to industrial growth in the fourth quarter of 2013," said Reliance in its earnings report. "In addition, fewer shipping days due to the holiday season and extended holiday-related closures at many of our customers' facilities are expected to reduce tons sold in the fourth quarter as compared to the 2013 third quarter, a typical seasonal trend. Overall pricing is expected to remain near the current low levels for the remainder of the year. As a result, for the fourth quarter ending December 31, 2013, management currently expects GAAP earnings per diluted share to be in the range of $.90 to $1.00."

Latest in Steel Mills