Steel Products Prices North America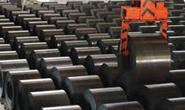 Exports Down for September
Written by John Packard
November 21, 2013
---
Total steel mill product exports in September were 1,022,050 net tons, a 10.93 percent decrease from October tonnage of 1,147,411 NT. September exports are reported to be at their lowest levels since December 2012.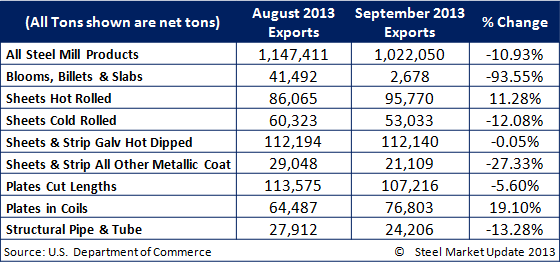 Semi-finished exports were reported to be 2,678 NT, down 93.55 percent from August tonnage of 86,065 NT, but this is most likely a discrepancy in the DOC data (or a very bad month for the domestic mills).
Hot rolled exports were up 11.28 percent to 95,770 NT, while imports for cold rolled, galvanized, and other metallic coated products decreased 12.08 percent, 0.05 percent, and 27.33 percent respectively.
Exports of plates cut lengths were down in September by 5.60 percent, while plates in coils exports showed an increase of 19.10 percent. Exports of structural pipe and tube decreased by 13.28 percent over the previous month.
According to the DOC website, they did not collect license data from October 1st through October 16th. Therefore, September and October license data are incomplete, so the figures below should be taken with caution.(Source: US DOC)
Latest in Steel Products Prices North America