Steel Products Prices North America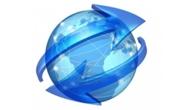 Steel Exports Rise in October
Written by Brett Linton
December 10, 2013
---
Total steel exports rose 10.86 percent in October over September and were at the highest levels seen since May 2013. Of the 1,133,090 net tons (NT) exported in October, 52.70 percent were sent to Canada and 36.17 percent went to Mexico. The remaining 11.12 percent went to non-NAFTA countries, with tonnage going to Brazil (1.01 percent), China (0.78 percent), India (0.70 percent), and Italy (0.61 percent).
Significant products exported in October include galvanized, plates cut lengths, hot rolled, structurals shapes heavy, plates in coils, reinforcing bars, and cold rolled. Galvanized exports were at 116,330 NT in October, down 3.74 percent over September tonnage. Plates cut lengths increased by 0.61 percent on a month-over-month basis to 107,870 NT. Hot rolled exports were 104,234 NT, up 8.84 percent. Structural shapes heavy were at 97,417 NT, up 16.55 percent. Plates in coils increased 1.71 percent to 78,114 NT.  Reinforcing bars were at 59,955 NT, up 29.07 percent. On the other hand, cold rolled exports were 52,394 NT, down 1.21 percent.
Below is a table of the top exported products that Steel Market Update follows.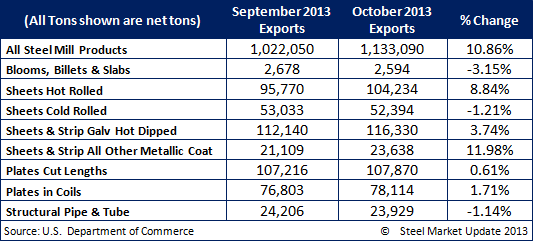 Latest in Steel Products Prices North America