Economy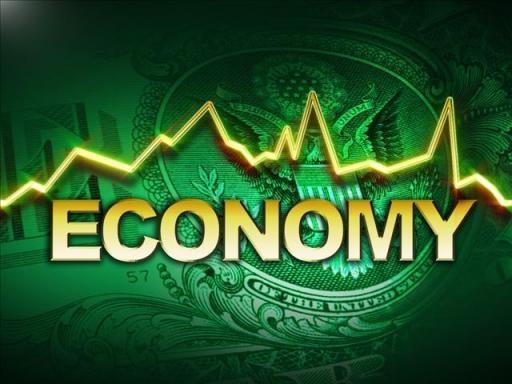 Net Job Creation Has Private Sector Expanding & Government Sector Contracting
Written by Peter Wright
January 12, 2014
---
Net job creation in December was a disappointing 74,000, far below expectations. However November was revised up by 38,000 and the three month moving average of monthly job gains was hardly dented (Figure 1).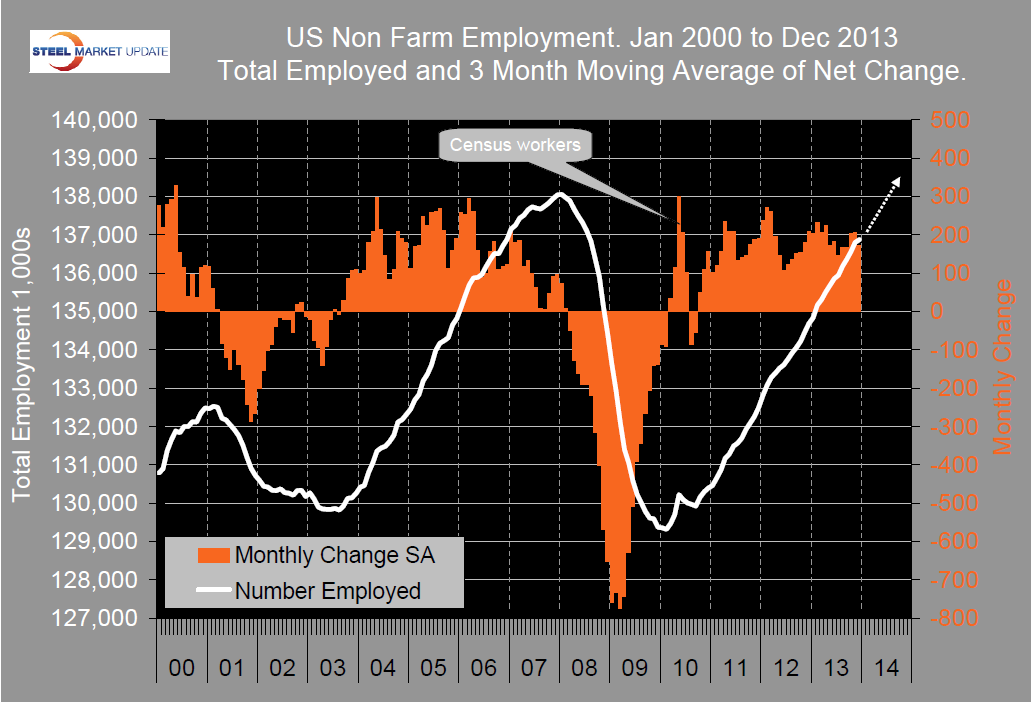 This monthly result is at odds with most other economic indicators and was probably adversely affected by short term influences such as unusually cold weather in December. Details by sector are shown in Table 1 below. In the absence of data from the next couple of months that may, or probably will not, corroborate the December result, it's better to take a long term view.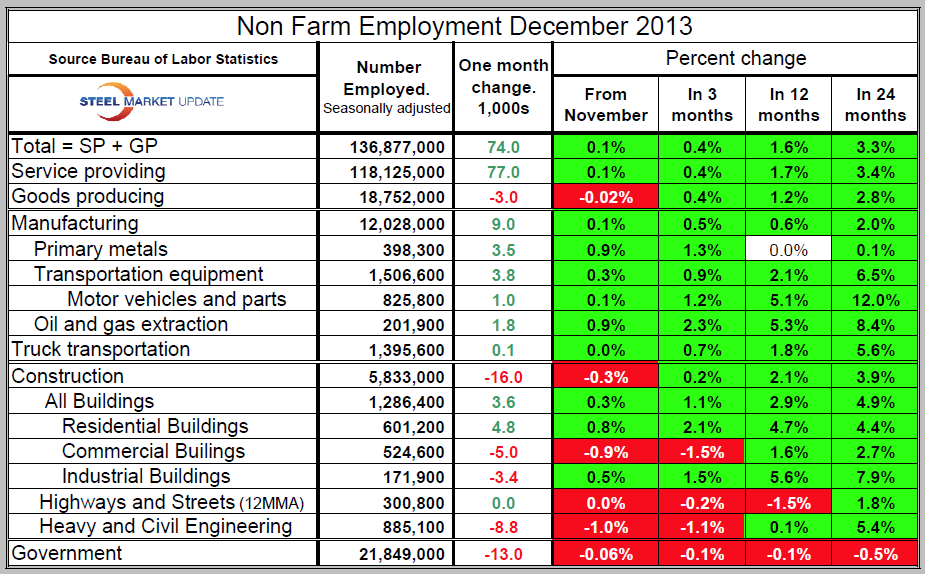 In 2013 as a whole the US economy continued to transition to a base of service industries with goods producing industries growing much more slowly. Goods producing is mostly made up of manufacturing, construction, transportation and energy. At the same time, the private sector expanded as government contracted. In 2013 the total number of jobs created was 2,186,000. This breaks down to 1,956,000 service providing and 230,000 goods producing. The private sector added 2,211,000 jobs and government lost 25,000 jobs. Total jobs in the private sector are almost back to where they were before the recession began to bite (Figure 2).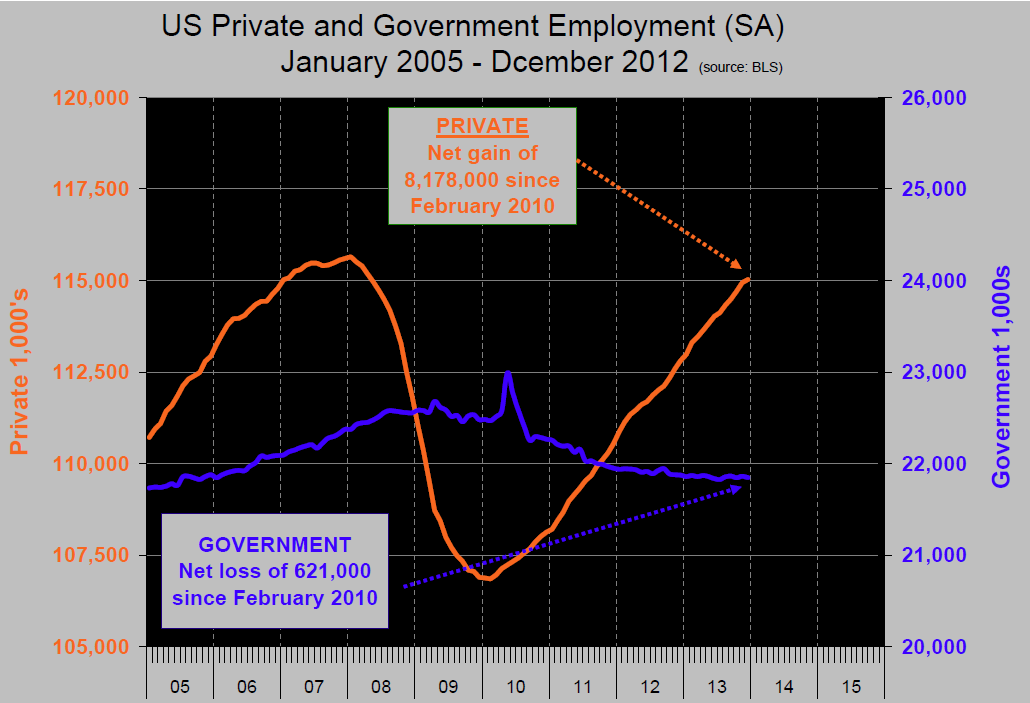 Other employment data are more encouraging. New unemployment claims were up in December but not significantly so and employee layoffs in December at 30,623 were the lowest of the year. Challenger, Gray and Christmas, an executive outsourcing firm, compiles job cut announcements from press releases and sums the number of individuals affected by each announcement. The job cuts are listed by company, location of company headquarters, industry, number of people affected, and reason for action. The latest Challenger report confirms that the rate of layoffs has slowed. Fewer workers were affected by job cuts in 2013 than in any year since 1997.
The official announcement (abbreviated) from the Bureau of Labor Statistics read as follows:
"Total nonfarm payroll employment edged up in December (+74,000). In 2013, job growth averaged 182,000 per month, about the same as in 2012 (+183,000 per month). In December, job gains occurred in retail trade and wholesale trade, while employment declined in information. Employment in professional and business services continued to trend up in December (+19,000). In 2013, job growth in professional and business services averaged 53,000 per month. Within the industry, temporary help services added 40,000 jobs in December, while employment in accounting and bookkeeping services declined by 25,000.
"Manufacturing employment continued to trend up in December (+9,000). Employment rose in primary metals (+4,000) and petroleum and coal products (+2,000), while electronic instruments (-4,000) lost jobs. Manufacturing added 77,000 jobs in 2013, compared with an increase of 154,000 jobs in 2012. Employment in mining edged up in December (+5,000). The industry added 29,000 jobs over the year.  Construction employment edged down in December (-16,000). However, in 2013, the industry added an average of 10,000 jobs per month. Employment in nonresidential specialty trade contractors declined by 13,000 in December, possibly reflecting unusually cold weather in parts of the country. Employment in other major industries, including transportation and warehousing, financial activities, leisure and hospitality, and government, changed little in December.
"The average workweek for all employees on private non-farm payrolls edged down by 0.1 hour to 34.4 hours in December. The manufacturing workweek was unchanged, at 41.0 hours, and factory overtime edged up by 0.1 hour to 3.5 hours. The average workweek for production and non-supervisory employees on private non-farm payrolls edged down by 0.1 hour to 33.6 hours.
"In December, average hourly earnings for all employees on private non-farm payrolls edged up by 2 cents to $24.17. Over the year, average hourly earnings have risen by 42 cents, or 1.8 percent. In December, average hourly earnings of private-sector production and non-supervisory employees increased by 3 cents to $20.35." 
SMU Comment: employment is one of the key foundation stones of future steel demand as it drives consumer confidence and spending. We are not depressed about the December result as the long term fundamentals are still strong.  
Steel Market Update has more market analysis and forecasts in our Premium Level membership. We will publish a Premium Supplement on Monday of this week and our next imports by product, port and country analysis will also be available later this week to Premium Level members.

Latest in Economy