Economy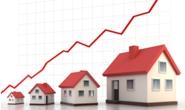 Home Prices Continue to Rise Says S&P/Case Shiller
Written by Sandy Williams
January 30, 2014
---
The S&P/Case-Shiller Home Price Indices showed continued growth in a report released this week. The November 2013, 10-City and 20-City composites increased by 13.8 percent and 13.7 percent year-over-year, respectively.
The month-to-month indices decline 1.0 percent in November, the first decrease since November 2012. Nine out of 20 cities in the survey recorded positive returns, all of which were in Sunbelt regions except for Boston and Cleveland.
David Blitzer, Chairman of the Index Committee at S&P Dow Jones Indices, said the one percent November decline was not indicative of a slide since "prices typically weaken as we move closer to winter." Overall, "November was a good month for home prices," he said.
"Home prices continue to rise despite last May's jump in mortgage interest rates," said Blitzer. "Mortgage applications for purchase were up in recent weeks confirming home builders' optimism shown by the NAHB survey. Combined with low inflation—1.5% in 2013—home owners are enjoying real appreciation and rising equity values. While housing will make further contributions to the economy in 2014, the pace of price gains is likely to slow during the year."
The nine cities showing annual growth were Boston, Chicago, Cleveland, Dallas, Las Vegas, Miami, New York, Tampa and Washington. Miami led the growth acceleration with an increase of 1.4 percent. The biggest decline was seen in Chicago which fell of 1.2 percent.
For more information on specific cities include in the composite indices, go to the press release here.  

Latest in Economy