Steel Mills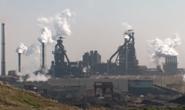 AK Steel Ashland Blast Furnace Down
Written by John Packard
February 25, 2014
---
AK Steel has lost their Ashland, Kentucky blast furnace. The furnace, which is called Amanda, is rated at 6,000 net tons per day according to AIST data.
According to customers of AK Steel, the company found a crack in the bottom of the furnace and the expected repairs are expected to take three weeks. When asked to comment on the problem or status of the repairs an AK Steel spokesperson had "no comment."
The company is expected to lose somewhere around 100,000+ tons of pig iron production due to this issue.
The company issued the following statement in an 8-K filing on the AK Steel website:
"On February 22, 2014, AK Steel experienced an incident at the Company's blast furnace in Ashland, Kentucky that has temporarily resulted in an unplanned outage of that furnace.  There were no injuries in connection with this incident.  The Company continues to assess the situation and investigate the root cause of the incident. In the meantime, the Company has begun repairs to bring the furnace back into production as soon as possible. Prior to the completion of those repairs, the Company will utilize its Middletown Works blast furnace and its Butler Works electric arc furnace, as well as purchase merchant carbon slabs, to service its customers."
AK Steel has not been a large player in the spot markets since the company's other blast furnace located in Middletown, Ohio had an issue during the summer 2013.

Latest in Steel Mills