Steel Products Prices North America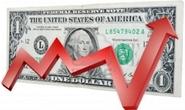 March Monthly Pricing Recap
Written by John Packard
March 31, 2014
---
March was the month that saw the bottom to the flat rolled steel pricing cycle and signs of the first bounce as prices began moving higher. We are finding our monthly analysis of pricing fascinating as many become consumed by the weekly numbers and forget the bigger picture. Weekly gyrations many times equal little change in the long run and that was the case during the month of March.
The month began with benchmark hot rolled coil averaging $635 per ton and by the end of the month the average was $5 per ton lower. During the course of the month we saw hot rolled prices dip to a low of $620 per ton before bouncing back to the $630 per ton level.
Cold rolled prices which usually are $100-$120 per ton higher than hot rolled ended the month of February $130 per ton above the HRC benchmark average. By the end of the month the premium for cold rolled was reduced to $115 per ton which is within the normal range.
Galvanized .060 G90, which is the benchmark item used by CRU and a number of other indexes, averaged $815 per ton at the end of February and by the end of March were down $15 per ton to $800 per ton.
Galvalume also saw a mild decline in their benchmark .0142" AZ50 Grade 80 which dropped $10 per ton from $1041 at the end of February to $1031 at the end of March.
All products are FOB domestic steel mill, east of the Rocky Mountains. In the case of hot rolled and cold rolled the items referenced are without any extras being added (base thickness and width).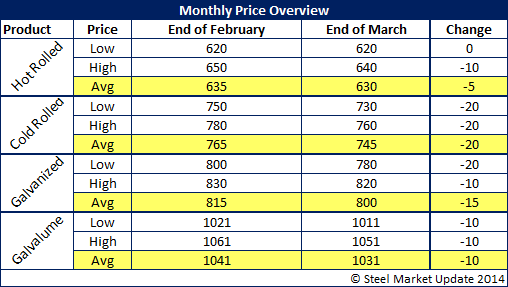 Latest in Steel Products Prices North America