Service Centers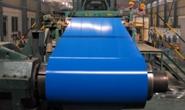 CENTRIA Coating Services Announces Promotions
Written by Sandy Williams
April 1, 2014
---
CENTRIA Coating Services has promoted two longstanding employees of the organization. Jim Connelly will assume the newly created position of Director of Continuous Improvement and Supplier Relations and Charlie Hamilton has been named Director of Coil Coating Operations for the company's two plants.
"Both of these individuals exemplify CENTRIA's 'That's How We Roll' swagger," said Jim Dockey, General Manager, CENTRIA Coating Services (CCS). "Their leadership will be instrumental as we continue to synchronize our best practices in both our Ambridge and Cambridge plants."
The promotions are part of a strategy implemented in 2013 called "Bridge the Gap," that leverages best practices between CENTRIA's Ambridge and Cambridge plants and will enable the company to continue to deliver on its four fundamental platforms: relentless perfection, critical flexibility, total access and maximum return.
Connelly will work with key suppliers to expand partnership initiatives as well as overseeing the expenditures process in relation to investment opportunities.
Hamilton will have complete operational responsibility for both plants and lead the "Bridge the Gap" initiative across all company disciplines.
CENTRIA Coating Services applies a variety of coatings to a wide range of substrates. It also provides embossing, slitting and leveling at its facilities in Ambridge, Pa., and Cambridge, Ohio.
Latest in Service Centers