Steel Mills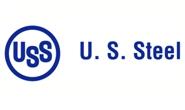 USS Gary Works Receives Shipment of Iron Ore - More Planned for this Week
Written by John Packard
April 6, 2014
---
Steel Market Update requested information from US Steel regarding the status of USS Gary Works, which has been running steelmaking at reduced capacity due to a lack of raw materials and, USS Great Lakes which has steelmaking operations temporarily down due to damages suffered when a main collector pipe fell collapsing part of the roof protecting their BOP (basic oxygen process or basic oxygen furnace). Courtney Boone, spokesperson for US Steel responded to our request this afternoon (Sunday, April 5th) with the following statement:
"Today (Sunday, April 6) our Gary Works received the first of several deliveries of iron ore planned for this week.  The facility is operating at reduced capacity as we work to replenish iron ore inventory levels over the coming weeks.  Our Great Lakes Works remains off-line and we continue to evaluate the repairs needed.  In the meantime, we are in contact with our customers in an effort to minimize the impact on their operations."
The fact that the Gary Works operation is receiving some iron ore shipments is welcome news to many customers who may be impacted by the reduced production at the Gary fully integrated steel mill.
The situation at Great Lakes appear to be still up in the air and were probably compounded late last week when an independent contractor was fatally injured when a crane he was working on flipped over.
Both the Gary Works and Great Lakes facilities are known for being automotive flat rolled plants and combined the two facilities can produce over 30,000 net tons of flat rolled steel per day.
Latest in Steel Mills