Steel Products Prices North America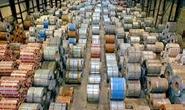 Secondary Steel Prices Surging as Supply Tightens
Written by John Packard
April 10, 2014
---
Service centers and steel brokers within the secondary (non-prime) segment of the flat rolled industry are advising Steel Market Update that prices on secondary are rising just as quickly as prime. Production problems at a number of mills, coupled with logistics problems holding back shipments from some mill locations, has helped tighten inventories of vanilla type products (base gauges, non-exotic steels).
One broker advised Steel Market Update this afternoon, "Everybody is up on their prices. The mills are trying to pull the bar up to whatever the market will bear."
This broker went on to say that secondary service center inventories have been at low ebb for many months as end user "marching orders" are to only buy what they need. As one service center put it, "Wait and see is the attitude of our industry now."
At the same time, steel producers (mills) don't have huge amounts of material sitting on their floors and available to sell. The net result of all this is a quick tightening of the market with spot shortages on cold rolled and light gauge galvanized. An East Coast service center spoke about secondary cold rolled as the "invisible" product. There just isn't any to be had.
The combination of these issues are resulting in what one service center called a firm market on non-prime over at least the next 60 days and perhaps longer.
A Chicago based service center advised SMU that one of their integrated mill suppliers raised their secondary prices $60 per ton just yesterday. A second mill, US Steel, was identified as holding back on offering their secondary material as they go through an evaluation process to see if any of the material can be reapplied to existing orders affected by their production issues. We also learned from our sources that AK Steel may be "unofficially" out of the secondary market for awhile.
What is this doing to the normal trading of secondary between dealers and into end users?
Customers who buy secondary steel are resisting paying the higher prices but are having little to no choice. As mentioned above, when markets become "confusing" buyers have a tendency to sit on their hands and not make decisions. Time does not seem to be the friend of the procrastinators who need steel within the next 30-60 days.
Dealer to dealer business is presenting both opportunities for companies to expand their sources of supply and/or expand their customer base. However, it is not all business as usual.
One East Coast service center told SMU this afternoon that this market is "bringing out the worst in people." This executive told us that their company was not raising prices but many dealers are involved in "highway robbery" and starting to charge obscene prices. "If you got it [what the customer wants] you sell it for what you can get."
With little secondary being offered out of the domestic mills – the future looks to be quite hectic for those involved in the business.

Latest in Steel Products Prices North America