Steel Mills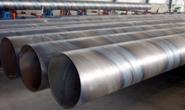 Strike at Allied Tube & Conduit Ended
Written by Sandy Williams
May 5, 2014
---
Allied Tube & Conduit and members of USW Local 9777 reached an agreement on a new contract on Sunday, ending a week-long strike.
The contract for USW Local 9777 expired in April 2013 and the company and union officials have been in negotiations for the past year. A compromise over the weekend led to contract acceptance after Allied Tube & Conduit agreed to drop plans to freeze pensions, dictate which jobs employees work, and extend shifts to 10-12 hours. In return, the workers will pay higher out-of-pocket health expenses and job descriptions will be reduced from 68 to 42, adding additional roles for employees.
The four-year contract includes a 2 percent raise and signing bonuses. Some of the 460 striking union members returned to work on Monday to prepare the mill for production and the rest will return on Tuesday.
Allied Tube & Conduit is part of Atkore International, an industry leader in the manufacturing of galvanized steel tubes and pipes, electrical conduit, armored wire and cable, metal framing systems and building components; serving a wide range of construction, electrical, fire and security, mechanical and automotive applications. Allied Tube & Conduit is located in Harvey, Ill.
Latest in Steel Mills