SMU Data and Models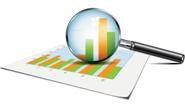 SMU Steel Buyers Sentiment Index at +54
Written by John Packard
June 5, 2014
---
Steel Market Update (SMU) Steel Buyers Sentiment Index is at +54 this week and continues to be well within the optimistic range for the index. Even though the index dropped 8 points from the all-time high recorded during the middle of May, the growing optimistic trend continues as our three month moving average improved to +52.17, up +2.84 points and setting a new high for the 3MMA.
The SMU Steel Buyers Sentiment Index measures how active buyers and sellers of steel feel about their company's ability to be successful in the current market environment. Since the beginning of calendar year 2014 we have seen Sentiment improving, moving from the low +40's and into the mid +50's and beyond during the six month time span.
Future Sentiment, which measures how buyers and sellers of steel feel about their company's ability to be successful in the near future (3-6 months) was reported to be +64, down 3 points from the middle of May and 8 points lower than the record high of +72 set back in the middle of April.
In the table below you can get a better feel for how current Sentiment, our 3 month moving average and future Sentiment have moved since the beginning of this calendar year. The boxes with a red triangle in them are referencing all time highs for that particular set of data.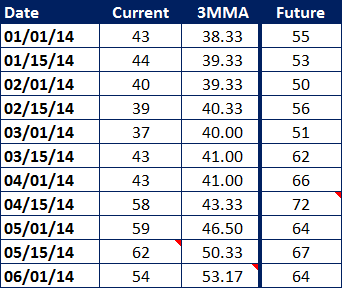 What They Are Saying:
Respondents to our flat rolled market survey left a number of comments behind while answering our inquiries on pricing, market trends and Sentiment. Here is a small sampling:
A large Midwest service center reported, "Spot is hot!"
While a second service center said, "We are very busy."
A manufacturer reported that they were, "Concerned about loss of competitive pricing of imported steel."
A company who paints steel coils advised SMU that, "The commercial construction market has not recovered yet."
Demand continues to improve in this week's survey. Forty-one of our survey respondents reported demand as improving. Of the remainder, 51 percent reported demand as remaining stable and 8 percent reported demand as declining.
From the SMU perspective, we tend to see companies becoming more optimistic as steel prices rise, especially if the increases are slow and steady as they were earlier this year. Now we are starting to see price stagnation or slight erosion which could explain the 8 point drop over the past few weeks.
None-the-less, we are in rarified air as buyers and sellers continue their optimism about the steel industry.
About the SMU Steel Buyers Sentiment Indices
SMU Steel Buyers Sentiment Index is a measurement of the current attitude of buyers and sellers of flat rolled steel products in North America regarding how they feel about their company's opportunity for success in today's market. It is a proprietary product developed by Steel Market Update for the North American steel industry.
Positive readings will run from + 10  to + 100 and the arrow will point to the right hand side of the meter located on the Home Page of our website indicating a positive or optimistic sentiment.
Negative readings will run from -10 to -100 and the arrow will point to the left hand side of the meter on our website indicating negative or pessimistic sentiment.
A reading of "0" (+/- 10) indicates a neutral sentiment (or slightly optimistic or pessimistic) which is most likely an indicator of a shift occurring in the marketplace.
Readings are developed through Steel Market Update market surveys which are conducted twice per month. We display the index reading on a meter on the Home Page of our website for all to enjoy.
Currently, we send invitations to participate in our survey to almost 600 North American companies. Our normal response rate is approximately 110-170 companies. Of those responding to this week's survey, 45 percent were manufacturing companies (unchanged from the 45 percent reported in our last survey) and 39 percent were service centers/distributors (down 4 percent from the 43 percent reported in our last survey). The balance of our respondents are made up of steel mills, trading companies and toll processors involved in the steel business.
Below is an interactive graph of our Sentiment Index (open white space if you are not on our website). In order to see and manipulate the graph you will need to be logged into the SMU website. Contact us at: info@SteelMarketUpdate.com or by phone at 800-432-3475 if you need assistance.
{amchart id="109″ SMU Steel Buyers Sentiment Index- Survey}

Latest in SMU Data and Models