Steel Mills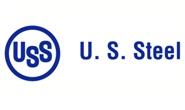 US Steel to Pay $58 Million in Antitrust Settlement
Written by Sandy Williams
July 10, 2014
---
US Steel agreed in a Northern Illinois federal court on Tuesday to pay $58 million to settle a class action lawsuit filed in 2008 by Standard Iron Works on behalf of direct purchasers of steel products. The suit alleged that eight U.S. steel producers violated federal antitrust laws by restricting production of steel products between 2005 and 2007 for the express purpose of raising steel prices.
The defendants in the case included U.S. Steel, ArcelorMIttal, Nucor, Gerdau, AK Steel, Steel Dynamics Inc., SSAB and Commercial Metals Company (CMC). There are still three mills who have not yet settled: Nucor, SDI and SSAB.

The US Steel settlement follows previous settlements by ArcelorMittal ($90 million), AK Steel ($5.8 million), Gerdau ($6.1 million), and Commercial Metals Company ($4 million). 
US Steel and attorneys for Standard Iron Works declined comment.
Latest in Steel Mills