Steel Mills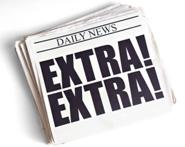 Steel Mill Consolidation: Train is on the Track
Written by John Packard
July 15, 2014
---
Based on SMU sources we understand there are two steel mills, comprising three separate steel plants, that are for sale and could potentially change hands before the end of this calendar year. The two mills are Severstal NA and Gallatin.
Severstal NA
SMU understands the bids for Severstal NA were due this past Friday. Our sources have identified four possible suitors: US Steel, JFE out of Japan, CSN out of Brazil and Steel Dynamics. Other mills may well be involved in the process but the named mills are the four most often referenced when discussing the sale of the Severstal North American operations.
One of our sources told us they did not believe the bidding parties will hear anything about the status of their bids for a few weeks – potentially into mid-August. Even then, there is no guarantee that the mills will be sold or, for that matter, exactly what will happen next.
SMU opinion is Severstal is interested in selling at this time. As one mill put it to us last week while we were discussing the subject, "It's not like 2004 [market shortage and extreme prices benefiting steel mills], we expect this year and next year to be decent years." He went on to tell us that Severstal understands that the U.S. steel market has cycles and we are now in a decent market cycle for the industry which is a good time to sell.
Does this mean that Severstal will be able to re-capture all that was invested into the two mills? Our expectation is the numbers being offered will be much less than what was originally paid plus the costs for the additional equipment in both mills.
There has been much speculation as to what company or companies would fit well with the Dearborn and Columbus facilities. The two steel mills are totally different from one another. Dearborn is a fully integrated steel mill with a blast and basic oxygen furnaces making steel from iron ore. Columbus is an electric arc furnace or mini-mill using scrap instead of iron ore to make steel.
Of the companies being mentioned, it seems that the natural fit is to break up the two plants and have Dearborn go with US Steel (which has a facility close by) or another fully integrated U.S. steel producer. One scenario has Steel Dynamics buying both mills and selling off the Dearborn plant to AK Steel with SDI keeping the Columbus plant. There are a number of options including the one that has Severstal keeping the two plants and not selling them at all.
With Columbus being an EAF facility located in the south that would point to SDI as being a natural fit. It would expand their geographical footprint into the South and they are already well versed at running EAF facilities.
Some question whether CSN is really interested in becoming the 4th largest steel producer in the United States overnight.  CSN has been actively interested in expanding into the United States and came very close to buying the ThyssenKrupp Calvert, Alabama facilities only to ultimately lose out to ArcelorMittal and Nippon Sumitomo.
The Alabama facility made some sense for CSN as they have their own iron ore and slab mill capabilities. It is less clear how they would digest the Dearborn and Columbus steel plants should they acquire them.
One thing is clear, the two steel mills should not be compared to the assets associated with RG Steel when that company went bankrupt. There have been significant investments made in the Dearborn facility, including in their blast furnace, pickle tandem mill and new galvanizing line, as well as Columbus which is the most modern EAF mill in the United States.
Gallatin
We learned this week that the Gallatin mill is entertaining bids as the two partners which jointly own the mill: Gerdau Ameristeel and ArcelorMittal, appear willing to sell their interest and divest themselves of the EAF mini-mill.
Gallatin is located in Ghent, Kentucky and produces approximately 1.6 million tons of hot rolled products on an annual basis. The mill can actually roll more than 1.6 million tons but is restricted by the production capability of the existing electric arc furnace (EAF).
The Gallatin mill has been mentioned as a good fit for the existing CSN conversion mill located in Terre Haute, Indiana. That mill converts hot band to cold rolled and galvanized products. The two plants are located in reasonable proximity to one another. The only negative is the CSN plant is a 72" wide mill and the Gallatin facility can produce only to 64" wide coils.
Our understanding is Gallatin has asked for bids on their facility to be submitted by the middle of August, during the same time some of the same potential suitors will be working with Severstal.
It will make for one interesting summer.

Latest in Steel Mills