SMU Data and Models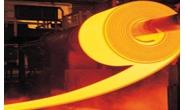 Mill Lead Times: Starting to Move Out
Written by John Packard
August 7, 2014
---
Domestic steel mill lead times on flat rolled steel are starting to extend compared to what we measured two weeks back. For most of the year lead times have been running within a relatively narrow window (see graph). The new data is suggesting lead times may be breaking above normal patterns.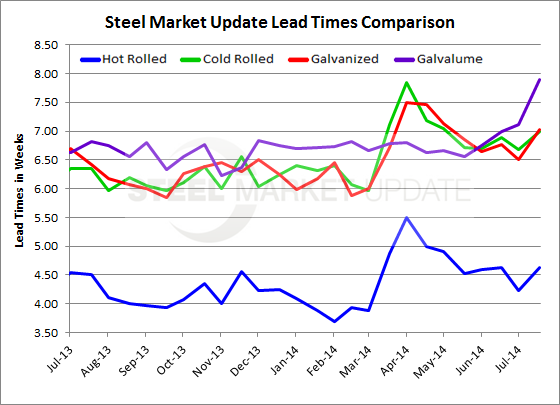 Based on our latest flat rolled steel survey results, the average lead time for hot rolled coils moved from 4.23 week (mid-July) to 4.63 weeks. This is in line with what we saw for lead times one year ago when hot rolled averaged 4.5 weeks.
Cold rolled lead times also move out to 7.00 weeks from 6.68 week reported in mid-July. This is slightly longer than what we saw last year at this time when CR lead times averaged 6.35 weeks.
Galvanized lead times also moved out by half a week. The latest average lead time for GI is 7.03 weeks compared with 6.50 weeks in mid-July.
Galvalume lead times extended the furthest according to those who responded to this week's survey. AZ lead times averaged 7.90 weeks up from 7.11 weeks in mid-July and one week longer than the 6.82 weeks reported at this time one year ago.
Lead times moving out is a good sign of strength for the domestic steel mills and for flat rolled steel pricing. We will be curious to see if the addition of the #7 blast furnace at ArcelorMittal Indiana Harbor will have any impact on lead times in the coming weeks.
A full history of our lead time data for each individual product can be found on our website by going to the Analysis Tab > Survey Results > Lead Times or by clicking here.

Latest in SMU Data and Models