International Steel Mills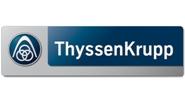 ThyssenKrupp CSA Makes Unexpected Q3 Profit
Written by Sandy Williams
August 19, 2014
---
ThyssenKrupp AG still hopes to sell its Brazilian steel plant CSA, but this time it will focus on the local Brazilian market said Chief Executive Heinrich Hiesinger at a meeting with journalists on Monday. No negotiations are currently in progress but are expected in the mid to long term.
CSA showed unexpected adjusted EBIT of €16 million ($21.3 million) in the third quarter ending June 30, 2014. Steel slab production at CSA increased 19 percent to 3.1 million tonnes (3.4 million net tons) in the first 9 months of FY 2013/2014. CSA delivered 1.9 million tonnes (2.09 million tons) of slab to the Calvert Alabama plant and 0.2 million tonnes (220,458 tons) to Steel Europe.
ThyssenKrupp plans to continue correcting operational challenges at the mill and says CSA has strong potential for growth in the slab market in the U.S.
"My original commitment was that CSA would be profitable in the next business year, 2014-15," said Heisinger. "I think in one year we are there."
Latest in International Steel Mills