Steel Mills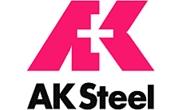 AK Steel Completes Purchase of Severstal Dearborn
Written by Sandy Williams
September 16, 2014
---
AK Steel announced today the completion of the $707 million purchase of Severstal Dearborn, which includes a cokemaking facility and interest in three joint venture steel processing facilities. The mill will be renamed "Dearborn Works."
"At AK Steel, the future is now, and the future is bright, as our acquisition of Dearborn Works makes us a larger, stronger and more flexible company," said James L. Wainscott, Chairman, President and CEO of AK Steel. "The acquisition is transformational to AK Steel, and it combines much more than the operational assets of two outstanding companies. It combines great employees who will strengthen a terrific company that is better able to compete, and to win, in the global steel marketplace."
Dearborn has an annual production capacity of 3.6 million tons of hot rolled, 2.1 million tons of cold rolled and 1.1 million tons of coated steel products. The mill produces flat rolled steels primarily for the automotive, construction and appliance markets. The acquisition is expected to boost AK Steel's annual shipments to 7.5 million tons. Cost synergies of $50 million are anticipated, with approximately $25 million realized in 2015.
Severstal invested more than $1.2 billion in new state-of-the-art equipment and operational improvements at Dearborn. In 2011, the company completed a $740 million modernization program that included a new, five-stand, six-high, 72″ tandem cold mill linked to a pickle line and a new, exposed hot-dipped galvanizing line.
The Dearborn facilities include:
1 blast furnace, rebuilt in 2007
2 basic oxygen furnaces
2 ladle metallurgy furnaces
1 RH degasser
2 slab casters, caster conversion in 2008
1 hot strip mill, modernized reheat furnace in 2008
1 coupled pickle line tandem cold mill, new in 2011
2 batch annealing shops
1 temper mill
2 hot dipped galvanizing lines, new HDGL in 2011
1 electrolytic galvanizing line (zinc and alloy)
AK Steel said it has "no plans to cease operations at any of its current steelmaking or steel finishing facilities."
The Dearborn facility was acquired by OAO Severstal in 2004. The historic facility has been in operation since its construction by Henry Ford in 1920. The original mill provided steel for the first Model A automobile. Situated in the Rouge River Complex on 350 acres, it is strategically located in the heart of the automotive industry and has approximately 1400 employees.

Latest in Steel Mills