Steel Products Prices North America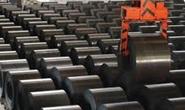 Comparison Price Indices: Hot Rolled at Yearly Average
Written by John Packard
September 21, 2014
---
One of our readers asked us earlier this week what the average price for hot rolled has been so far this calendar year according to the Steel Market Update HRC index. The answer to that question is $665.30 per ton through this current week.
The average of all of the hot rolled indexes followed on a regular basis by SMU is $665 per ton, down $2 week over week and right at our average for this year.
The spread in hot rolled pricing, which is the benchmark for the industry since it is where cold rolled and coated products are derived, has shrunk to $660 on the low side to $673 on the high side. However, SteelBenchmarker did not report new prices this past week. For those that did, the spread is only $5 per ton from high to low and the hot rolled average would have dropped to $662.33 per ton instead if $665.
Our table (see below) saw cold rolled prices decline by an average of $4 per ton. However, only SMU and CRU reported lower CRC prices for the week.
Galvanized prices rose by an average of $1 for the week and what we believe we are seeing happening with galvanized is the new coating weight adjustments are making their way into the numbers. Both CRU and SMU are now using $69 per ton ($3.45/cwt) coating extra on .060" G90 which is the benchmark galvanized product used in our galvanized indices. If you deduct the $69 per ton you will be at the base price used by each index.
We saw Galvalume slip $5 per ton mostly associated with foreign competitive pressures in the South.

FOB Points for each index:
SMU: Domestic Mill, East of the Rockies.
CRU: Midwest Mill, East of the Rockies.
SteelBenchmarker: Domestic Mill, East of the Mississippi.
Platts: Northern Indiana Domestic Mill.

Latest in Steel Products Prices North America