Economy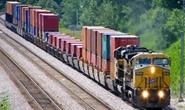 Congestion and Service Delays Continues to Plague Railways
Written by Sandy Williams
November 7, 2014
---
The Association of American Railroads reported 305,389 carloads for the week ending Nov 1, 2014, up 4.3 percent year over. Intermodal volume increased 5.9 percent y/y to 279,819 units for the highest volume ever.
"America's railroads are moving an enormous amount of freight today," said AAR Senior Vice President John T. Gray. "In the first 10 months of 2014, total U.S. carload plus intermodal volume was 24.3 million units, which is over one million units more than in the first 10 months of 2013 and the highest year-to-date total since 2007."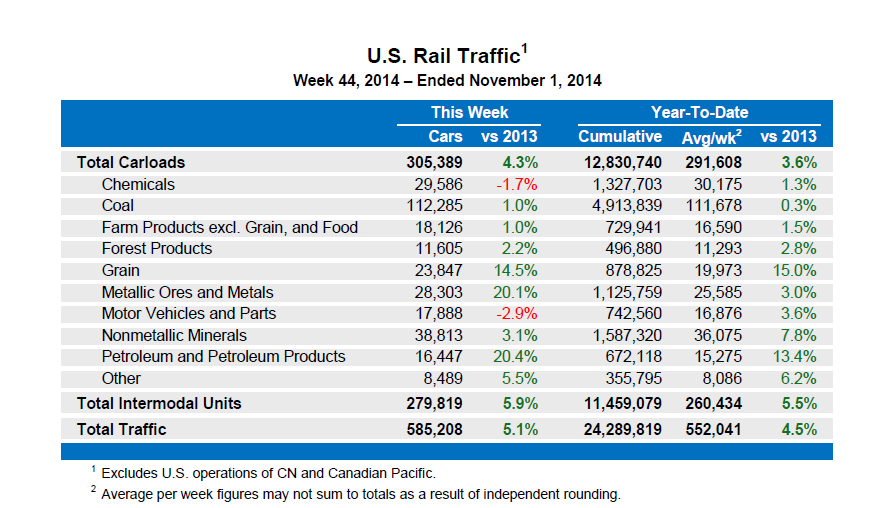 Intermodal volume in Canada increased for the second week in a row possibly due to another wave of shippers diverting cargo from the US West Coast due to congestion at the ports of Los Angeles and Long Beach.
Rail congestion has been a concern around the country. Edward Hamberger, President and CEO of the Association of American Railroads, said last month at a Railway Tie Association meeting that major infrastructure investments are needed to address existing service issues along with capacity expansions to meet surging freight demand. AAR is concerned about increased federal regulations that may hamper the industry's ability to grow.
"The cumulative impact of layers of regulation upon layers of regulation can have a substantial negative impact on service and capacity," Hamberger said. "We're caught between the calls for better service and shipper demands for more government regulation."
Amtrak announced last week that it would look into ways to relieve delays on its Chicago routes. As an example, delays of four hours or more have been experienced in routes between Chicago and Cleveland.
"The unprecedented level of rail congestion is causing major delays for Amtrak passengers and freight shipments, which are damaging to the U.S. economy," said Amtrak. The statement came in conjunction with the announcement that Amtrak is forming the Chicago Gateway Initiative panel, comprised of rail and transportation leaders, to study infrastructure and operation problems. The panel will submit its recommendations in May.
Chicago is a hub for the US railways and serves as a gateway for eastbound and westbound traffic. Amtrak says demand for intermodal freight has increased on the East Coast while shale field drilling is increasing crude oil shipments originating west of Chicago.
Capacity needs are highlighted by the backlog in freight car production. Economic Planning Associates (EPA) and the Railway Supply Institute reported that backlogs amounted to 124,437 cars and platforms at the end of third quarter—the highest level since October 1979.

"The railcar market continues to surge," said EPA principal Peter Toja. "Even though assemblies accelerated in the third quarter, incoming orders of 42,900 cars and platforms far outpaced deliveries of 18,432 units. Most noteworthy of the third-quarter expansion in orders was the widespread demand for a number of car types. Strong increases were recorded by all types of covered hoppers, intermodal equipment, Class F cars, and tank cars. Even the long neglected boxcar segment expanded at a vigorous pace in the third quarter."
Last month, rail delays and car shortage forced iron ore and coal operations in Minnesota to resort to trucks to move product to Lake Erie ports for shipping. US Steel reported going 20 days between trains at one of its Iron Range operations. Minnesota Power described rail service as "on again, off again."
US coal stock piles were down 23 percent from 2013 levels as of October 23 due in part to the rail delays. Following a petition from the Western Coal Traffic League, the US Surface Transportation Board required BNSF Railway to submit a coal-specific service recovery plan. The petition argues "BNSF-served members will have little or no opportunity to rebuild stockpiles in the fall given current BNSF service levels. Indeed, Western Coal Traffic League has just been informed that BNSF intends to remove approximately 60 coal train sets from service. Thus, at a time when WCTL's members are in significant need of coal, BNSF is further cutting back service."
The congestion and delayed service is Minnesota is attributed primarily to the increase in oil shipments from the Bakken oil fields which reportedly has doubled in the past year. Terry Fedor, Cliffs Natural Resources Executive VP-US Iron Ore, said the company's iron ore operations are being treated "second class" in comparison to the oil operations in Bakken.

The increase in oil shipments is backed by a surge in demand for tank cars. According to EPA, "Demand for tank cars continues to impress. After 10,628 cars were ordered in the second quarter, third-quarter orders amounted to 8,137 cars. As a result, in spite of a significant pickup in assemblies, end-of-September backlogs amounted to a healthy level of 51,582 cars. And, based on the latest projections of oil production and impending legislative issues, we look for further growth in demand for oil service tank cars. The anticipated growth in U.S. oil production, particularly from the Bakken oil shale formation, has been well documented.
"Spurred by the use of hydraulic fracturing or fracking in shale rock deposit, U.S. oil production has jumped from 5.0 million barrels per day in 2008 to 7.4 million last year and is expected to average 8.5 million this year and 9.3 million next year, according to the Energy Information Administration, the analytical arm of the Department of Energy. On the regulatory front, builders are responding to the Notice of Proposed Rule Making (NPRM) on hazardous material tank cars carrying crude oil and ethanol. At issue here is the retrofitting or replacement of a number of DOT-111 tank cars as well as the most recently built CPC-1232 tanks cars with enhancements to the bottom outlet value and pressure relief values that will reduce the likelihood of tank cars releasing contents in derailments. The latest estimates are that 90,000-100,000 cars currently in the fleet will be affected by increased safety regulations.
"Due to the rapid expansion in oil production and the lack of any significant pipeline additions, rail will continue to benefit, and we anticipate strong annual deliveries of oil service tank cars throughout the forecast horizon."

Latest in Economy