Steel Products Prices North America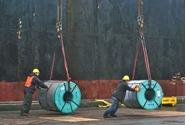 November Steel Import License Data Trending Toward 3.7 Million Tons
Written by John Packard
November 20, 2014
---
The U.S. Department of Commerce reported steel import license data through the 18th of November a little earlier this week. We have done an analysis of the license data and have compared it to previous months to see if we can see any similarities in the numbers.
The daily average rate for licenses is shown in the table below. This daily rate was for imports through the 18th of the month shown (or closest report to that date).
So far this month we appear to be on a similar trend as we were in August 2014. We believe imports will be well below the record set in October (although not final census numbers yet) of 4,481,322 net tons. The August 2014 final import numbers (all products) was 3,698,435 net tons.
We think November will end up somewhere between our 12 month and 3 month moving averages. Our 12MMA is 3,397,122 net tons and our 3MMA is 3,819,083 net tons. In November 2013 imports came in at 2,592,549 net tons.

Latest in Steel Products Prices North America