Steel Products Prices North America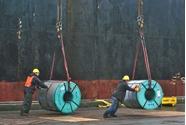 November Import License Requests Reach 3.9 Million Tons
Written by John Packard
December 2, 2014
---
The U.S. Department of Commerce released license data through today, December 2, 2015. Based on the latest data, there were 3,938,330 net tons of steel import license requests for the month of November. This does not mean that the U.S. actually received 3.9 million tons of steel imports during the month of November, but it does give us an indication as to the amount of steel coming. However, based on our experience with the months of July, August, September and October, the license number from the first week of the following month is within +/- 100,000 net tons. So, we believe when the Census data starts coming in later this month that November imports will be somewhere around 3.8 to 4.0 million net tons.
Compared to November 2013 when the U.S. received approximately 2.6 million net tons of total steel imports, this year will be up by approximately 52 percent if we achieve the 3.9 million ton level.
If you are curious and want to look at the November 2013 data and compare it against what we are producing below you can do so by logging into the website and looking under the Analysis tab – Imports/Exports and then Imports History. If you need help finding it – please let us know by email at: info@SteelMarketUpdate.com.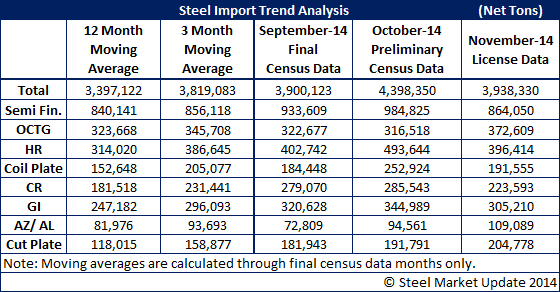 Latest in Steel Products Prices North America