Steel Products Prices North America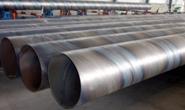 US DOC Drops 7 Companies from Mexican Welded Steel Pipe AD Review
Written by Sandy Williams
December 11, 2014
---
In a preliminary determination, the U.S. Department of Commerce found that Mexican steel pipe producer Productos Laminados de Monterrey sold pipe below normal value during the period of review, August 1, 2012 through July 31, 2013.
Originally eight Mexican companies were reviewed by the DOC for possible dumping of circular welded non-alloy steel pipe into the United States. Requests for review were withdrawn for Conduit, TUNA, Lamina, Ternium, Mueller and PYTCO. An additional company, Prolamsa, was determined to be a wholly-owned subsidiary of Productos Laminados and an importer, not producer, of welded pipe.
The products covered by the order are circular welded non-alloy steel pipes and tubes, of circular cross-section, not more than 16 inches in outside diameter, regardless of wall thickness, surface finish, or end finish.
A preliminary dumping margin of 6.31 percent has been calculated by the DOC for Productos Laminados. Interested parties are invited to comment on the preliminary results before the final determination is released in April 2015.
Latest in Steel Products Prices North America