Steel Mills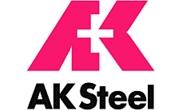 AK Steel Shipments Projected to be Up 37% in Q4
Written by Sandy Williams
December 18, 2014
---
AK Steel expects shipments to increase by 37 percent to 2 million tons in the fourth quarter of 2014. In the company's earnings guidance, AK Steel said, despite $321 million in costs associated with the outage at Ashland Works, it expects higher EBITDA than third quarter and net income of $0.05 to $0.10 per diluted share.
Average selling prices in the fourth quarter were approximately $980/ton, 10 percent less than the previous quarter, due to a higher mix of hot rolled coil shipments from Dearborn Works and lower spot prices.
The planned outage at Ashland works blast furnace finished one day early and included capital investments of approximately $19 million and $31 million in costs associated with the outage and reduced production levels at the facility. The successful reline is expected to reduce future costs and enhance customer service.
Lower iron ore, carbon scrap and energy costs are anticipated to benefit results in fourth quarter.  An increase in pension obligations is possible in fourth quarter.
Latest in Steel Mills