Steel Markets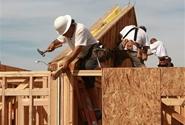 New Home Sales Slip 1.6% in November
Written by Sandy Williams
December 23, 2014
---
US new home sales slipped slightly in November to a seasonally adjusted annual rate of 438,000 from the 445,000 annual rates seen the previous month and in November 2013. Sales were 1.6 percent below both time periods.
Sales missed the economist forecast of a 460,000 unit pace in November. New home sales, which account for 8 percent of the housing market, dropped for the second month in a row.
Sluggish growth in wages and a trend towards renting rather than buying has kept the housing market from reaching a full recovery. Home builders, however, remain confident that the market will continue a slow but steady recovery in 2015.
The median price of a new home in November was $280,000 and the average sales price $321,800. At the end of November, 213,000 new homes were for sale, a supply of 5.8 months at the current sales rate.
Regionally, new home sales growth was only evident in the West where sales were up 14.8 percent from October. Sales on a month-over-month basis fell by 12 percent in the Northeast, 6.3 percent in the Midwest, and 6.4 percent in the South. On a year-over-year basis, sales increased in the Midwest by 3.5 percent and in the West by 10.7 percent. Sales dropped by 33.3 percent in the Northeast from November 2013 and by 4.1 percent in the South.
Latest in Steel Markets