Steel Products Prices North America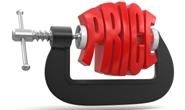 Comparison Price Indices: Pace of Decline Quickens
Written by John Packard
December 30, 2014
---
All of the flat rolled price indices followed by Steel Market Update saw steel prices as continuing their decline but in larger increments than what we have been seeing over the past few weeks. Benchmark hot rolled coil pricing dropped by an average of $11 per ton. Two steel indexes, Steel Market Update and CRU, reported HR prices as averaging $600 per ton with Platts at $605 and SteelBenchmarker at $620 per ton (SteelBenchmarker only reports prices twice per month).
It appears that hot rolled prices in the United States and Canada are poised to break through $600 per ton.
All of the other products followed by Steel Market Update (SMU) also saw their averages drop this past week. Cold rolled fell by an average of $12 per ton, galvanized by $6 per ton and Galvalume by $20 per ton.
Plate prices were the only product bucking the downward trend as the plate price average rose by $1 per ton. However, there is quite a disparity between the three indices reporting plate pricing. CRU has plate at $762 per ton while Platts is at $790 and SteelBenchmarker at $803 per ton. From top to bottom there is a $41 per ton spread. We would advise our readers to do their homework on not rely on a single price point amongst these three plate price indexes when making a buying or selling decision.

Steel Market Update will publish our next flat rolled market price analysis on Tuesday evening of this week.
FOB Points for each index:
SMU: Domestic Mill, East of the Rockies.
CRU: Midwest Mill, East of the Rockies.
SteelBenchmarker: Domestic Mill, East of the Mississippi.
Platts: Northern Indiana Domestic Mill (except plate which is Southeastern USA mill)

Latest in Steel Products Prices North America