Steel Products Prices North America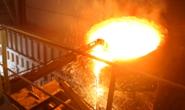 Raw Steel Production Through November Up 1.5 Percent Over 2013
Written by Brett Linton
December 30, 2014
---
The American Iron & Steel Institute (AISI) recently reported final raw steel production estimates for the month of November 2014. This estimation is different than the weekly raw steel production as it is based on 75 percent of the domestic mills reporting vs. 50 percent for the weekly estimates.
Total raw steel production for the month of November was reported to be 7,954,528 net tons with 4,937,514 tons being produced by electric arc furnaces (EAF) and 3,017,014 tons produced by blast furnaces. November raw steel production was reported by the AISI to have been 2.4 percent lower than the previous month.
Total raw steel production in 2014 throughout November is now 89,247,756 tons which is 1.5 percent above that of 2013 through the same time period. The capacity utilization rate for the month of November 2014 was reported to be 77.2 percent and 77.8 percent for 2014 Year to date. (Source: AISI)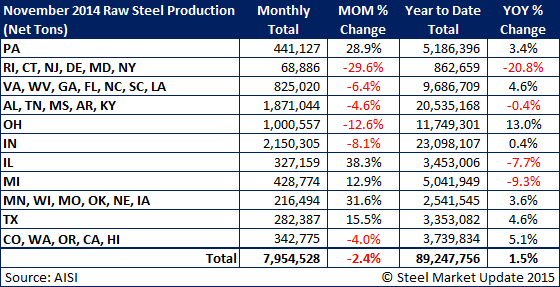 SMU Note: You can view the interactive graphic of our raw steel production history below, but only when you are logged in and reading the newsletter on our website. If you need help logging into the website or navigating through it, please contact us at: info@SteelMarketUpdate.com or by calling 800-432-3475.
{amchart id="131″ Monthly Raw Steel Production from AISI – AIS 7}
Latest in Steel Products Prices North America