Service Centers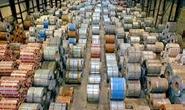 All Metals Acquired by Logic Ventures
Written by John Packard
January 3, 2015
---
Spartanburg, South Carolina, January 2, 2015. – Logic Ventures, LLC ("Logic Ventures") is pleased to announce the acquisition of 100% of the shares of All Metals Service & Warehousing and All Metals Transportation and Logistics ("All Metals"), an independent, South-East based, flat rolled steel and aluminum toll-processor and end-to-end logistics provider.
The acquisition comes as a result of the longstanding relationship between Logic Ventures and the previous owner and CEO, Harry Simon, and the mutual desire to preserve and build on the legacy of superior service for which All Metals has earned its reputation over four decades.
Harry Simon is retiring from the company and is succeeded in the CEO position by Jason Sippey.
Harry Simon who led the company for the last 22 years, says, "I was approached by Logic Ventures over two years ago.  We have spent a lot of time with each other, and I am not only comfortable but confident that I am leaving my second family, All Metals, in very strong hands."
"There is a lot said about the importance of buying great companies, and that is exactly what we have done.  All Metals is a great company, with a great legacy and great people.  We are thrilled to have All Metals as our first Strategic acquisition in the toll-processing and service arena. We look forward to working with the All Metals team on expansion and growth opportunities," Jason Sippey commented.
Logic Ventures was represented by Daniel Sullivan and Miller & Martin PLLC. All Metals was represented by Brian Sadler and Krevolin & Horst LLP.
For further information please contact Edward Panek at 864-420-2352
About All Metals: All Metals is an independent toll processor and end-to-end logistics provider serving the premium flat rolled metals markets with a high level of customer service. The Company's processing capabilities include multiple types of flat rolled products: carbon hot rolled pickled, cold rolled, coated, pre-painted, high-strength steels and non-carbon stainless steel and aluminum. The Company provides slitting, cut-to-length, blanking, inspection, storage, transloading and just-in-time delivery services operating out of its two facilities in Spartanburg, South Carolina and Cartersville, Georgia totaling 335'000 square feet with a processing capability of 600'000 tons annually. Company's transportation and logistics division operates a fleet of 84 carriers out of terminals in Sumter, SC, Spartanburg, SC, Cartersville, GA, Decatur AL and Tupelo, MS.
About Logic Ventures: Logic Ventures LLC is a strategic investment company that combines experience of long-time industry executives Roger Sippey and Sergei Kuznetsov and entrepreneurial background of Jason Sippey. Logic Ventures has a long term investment horizon targeting companies and green field opportunities in metals processing and logistics that offer potential for growth through a combination of superior customer service, operational improvements, active management involvement, capital and longstanding industry relationships.  www.logicventuresgroup.com
Source: All Metals Press Release

Latest in Service Centers