Economy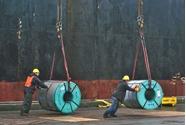 Warehouses at Ports of Houston & Savannah at Record Levels
Written by Sandy Williams
January 20, 2015
---
Gulf ports are not experiencing the horrific congestion issues seen in the West. Fleetwood Port Logistics, out of Houston and Savannah, that deals primarily in break bulk steel products, has seen little to no congestion at the primary discharge terminal of North City Docks, Port of Houston. There has been some congestion at the smaller private terminals causing diversion of vessels to the North City Docks.
Fleetwood general manager, Joe Chapman, however, is keeping an eye on trucking. "Trucking, flatbed, availability has improved immensely since Thanksgiving, however I expect this to be temporary as the entire industrial and manufacturing component slows in our segment during this time. Rates are starting to be pressured from their peaks of last year, but carriers are holding their ground anticipating increased demand as building starts again and their being a continued shortage of trucks during these peak seasons."
Chapman says warehouse space in Houston and Savannah is at record levels for both inside and outside storage. He is seeing more warehouses are being built in the area, specifically container trans-loading facilities.
When asked about steel imports Chapman had the following to report.
"Volumes have tapered off a bit the first part of January on the flat rolled side of business. We are forecasting about a 10% decline through the month of January compared to 2014 in Houston, for handling, but that may not be representative of our competitors. However, Houston's orders for February and March look to surpass last year's tonnages handled.
"The only forecasts I have is based on our customer forecasts, but nothing in the form of overall tonnages. They cover a broad range of flat roll products from housing, to battery casing, to oil country tubing, as end uses of the products imported. As a consolidation we are forecasting out, based on customer information, a 15% increase in tonnage this year, in Houston.
"Our automotive products in Savannah have slowed considerably, specifically flat roll. But at the same time we have seen an increase in commercial construction related products in flat-roll and structural components including, beams, tubing and pipe. Long products particularly have shown strength in Savannah."
As of November 2014, steel tonnage at the Port of Houston totaled 5,975,000 tons, up from 4,186,000 tons during the same period in 2013 and a record year for the port, according to data from the Port of Houston Authority.

Latest in Economy