Steel Mills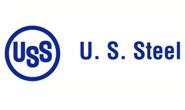 "Way" More Results for US Steel
Written by Sandy Williams
January 27, 2015
---
US Steel earnings reported 2014 net income of $102 million, attributing its Carnegie Way for its first profitable year since 2008. In 2013, US Steel reported a full-year net loss $1.645 billion that included $1.5 billion in impairment and restructuring costs.
Net income for fourth quarter was $275 million, compared to $297 million in Q4 2013 and a net loss of $207 million in third quarter 2014.
Net sales for the quarter were $4.0 billion. Income for flat rolled in fourth quarter was $247 million and $121 million in the tubular segment. Flat rolled results in Q4 were reduced by $100 million due to a reline of the blast furnace at Mon Valley works and planned maintenance projects at Granite City and Lake Erie Works. Flat rolled shipments were down 3,015,000 tons. The average realized sales price of $775 resulted from a weaker spot market, said US Steel.
Imports were a problem throughout 2014 but particularly in fourth quarter when massive imports levels adversely affected flat rolled sales.
"As we enter 2015 with this volatile market, we face significant challenges from dramatically lower oil prices, lower steel prices, and the impact of the stronger U.S. dollar and global overcapacity on imports and our operations, but we expect our Carnegie Way journey to continue to generate additional benefits in 2015, including healthy cash flows, strong liquidity, and sustaining our improved balance sheet," commented U. S. Steel President and CEO Mario Longhi.
US Steel will offer commentary on its earnings results and the steel industry during its conference call on Wednesday morning.

Latest in Steel Mills