Steel Mills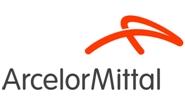 ArcelorMittal Narrows Losses in 2014
Written by Sandy Williams
February 14, 2015
---
ArcelorMittal narrowed its net loss to $1.1 billion in FY 2014 and cut its debt to $15.8 billion, the lowest level since the company was formed in 2006. Cash flow from operations in 2014 totaled $3.9 billion.
Consolidated steel shipments for 2014 were up 3 percent year over year to 85.1 million tonnes. Fourth quarter shipments decreased slightly to 21.2 million tonnes from 21.5 million tonnes in Q3.
Crude steel production in the NAFTA segment, which includes the Flat, Long and Tubular operations of USA, Canada and Mexico, decreased by 5.3 percent to 6.1 million tonnes in Q4 compared to Q3. Shipments fell 1 percent to 4.8 million tonnes q/q, driven by a 6.6 percent decline in long product steel shipment volumes offset in part by a 0.2 percent increase in flat product steel shipment volumes.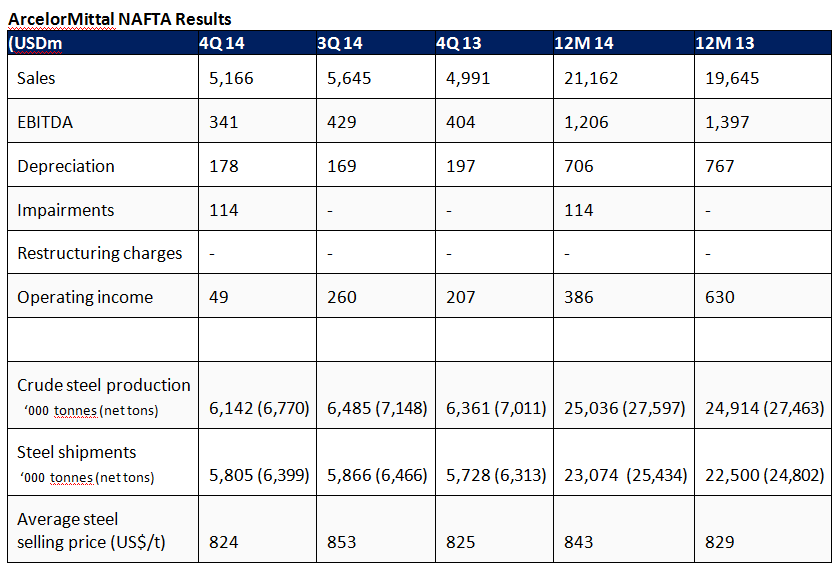 Chairman and CEO Lakshmi Mittal described low iron ore prices in 2014 as headwind that was offset by strong improvement in the steel segments. The winter conditions in early 2014 and the associated increase in costs also negatively impacted earnings for the year.
During the company earnings call, Mittal said steel demand is positive but the overhang of excess inventory at service centers driven by surging imports. Mittal expects an inventory adjustment in the first half of the year which will reveal strong underlying steel demand.
One of the smaller blast furnaces at Indiana Harbor will be down in July for a scheduled rebuild (not a full-fledged reline). No other major outages or upgrades are planned at this time.
The company has been working to integrate slab suppliers at Tubarao and ArcelorMittal Mexico into AM/NA Calvert. A $40 million slab yard expansion is expected to be completed in the second half of 2016. The qualification process for steel products for automotive and line pipe continues. Automotive will be a major focus for AM/NA Calvert with increased capabilities in producing advanced high strength steel.
Work continues on the #6 galvanize line at Dofasco with completion expected in the first half of 2015. The Phase 2 conversion of the #4 galvanize line to a dual pot line and closure of the #1 galvanize line is expected to be completed in 2016.
When asked about potential production cuts in the NAFTA region, Mittal said that because orders are slow as people work through inventory, the company is taking a metered approach to some of their blast furnaces, running them at a somewhat slower rate. "So we're responding I'd say in aggregate or in terms of the effect, similarly to other producers in North America, but again more through running the existing assets a bit slower we think that's a bit more efficient given that we don't expect this inventory adjustment to go on and on if that's a more efficient way to be able to come back when the market requires it."
ArcelorMittal forecasts global apparent steel consumption will increase by 1.5 percent to 2.0 percent in 2015 as compared to 2014. Due to restocking in 2014, Mittal expects demand in the U.S. to stabilize rather than grow.
The regional forecasts are as follows:
-1.0% to 0% in US
+1.5% to +2.5% in China
+1.5% to +2.5% in EU28
+1.0% to +2.0% in Brazil, and
-4.0% to -6.0% in CIS
Lakshmi Mittal commented on the 2015 outlook, "While there are challenges in some markets, we are a diversified business and overall volumes continue to grow. Yes, iron ore price has declined further in December month. But lower oil prices, lower freight rates and weaker exchange rates offset this to some extent. We will continue to improve our cost position both in steel and mining. All these factors considered, I expect EBITDA within a range between $6.5 billion to $7.5 billion, $7 billion in 2015."

Latest in Steel Mills