Economy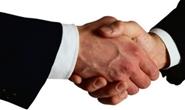 ILWU/PMA Reach Tentative Contract Agreement
Written by Sandy Williams
February 21, 2015
---
The PMA and ILWU released a joint statement Friday evening that a tentative agreement has been reached on a new five year contract covering port workers on the West Coast. After nine months of trading blame for slowdowns and congestion at the ports, the White House sent Labor Secretary Tom Perez to hammer out an agreement.
Perez said the ILWU and PMA reached a tentative agreement after a threat to bring negotiations to Washington.
"That was the direction from the president. Get this done now, but if necessary, in Washington," said Perez.
"This is great news for the parties involved in the negotiation and a huge relief for our economy — particularly the countless American workers, farmers and businesses that have been affected by the dispute and those facing even greater disruption and costs within further delays," said White House spokesperson Josh Earnest.
Perez said the parties have agreed to get back to full operations at West Coast ports. It will take months, however, for port workers clear the backlog of containers. During the dispute, companies importing and exporting goods suffered delays and losses with many shifting shipping to alternate ports in Canada and the East Coast, incurring additional costs.
"As we welcome today's news, we must dedicate ourselves to finding a new way to ensure that this nightmare scenario is not repeated again," the National Retail Federation said in a statement. "If we are to truly have modern international trade, supply chain and transportation systems, we must develop a better process for contract negotiations moving forward."
The press release from the ILWU and PMA follows:
SAN FRANCISCO (Feb. 20, 2015) – The Pacific Maritime Association and the International Longshore and Warehouse Union today announced a tentative agreement on a new five-year contract covering workers at all 29 West Coast ports. The deal was reached with assistance from U.S. Secretary of Labor Tom Perez and Federal Mediation and Conciliation Service Deputy Director Scot Beckenbaugh. The parties will not be releasing details of the agreement at this time. The agreement is subject to ratification by both parties.
"After more than nine months of negotiations, we are pleased to have reached an agreement that is good for workers and for the industry," said PMA President James McKenna and ILWU President Bob McEllrath in a joint statement. "We are also pleased that our ports can now resume full operations."

Latest in Economy