Economy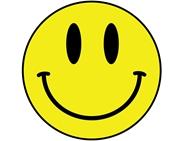 Consumer Confidence 3MMA Rises for 14th Straight Month
Written by Peter Wright
February 25, 2015
---
The Consumer Confidence Index as reported by the Conference Board declined in February after a very strong increase in January. In addition, the January results were revised upwards. In February the composite fell from 103.8 to 96.4, the view of the present situation fell from 113.9 to 110.2 as expectations fell from 97.0 to 87.2.
The good news is that in our SMU reports we discount monthly results and focus on three month moving averages (3MMA). On that basis the composite has risen for 14 straight months and in February rose from 96.0 to 97.8. This increase was driven by the consumer's view of the present situation the 3MMA of which increased from 102.5 to 108.0. The 3MMA of the expectations component did decrease from 91.6 to 90.9. The 3MMA of the composite at 97.8 is now well above the 35 year average which stands at 90.6 since 1980. The 3MMA of the composite, the view of the present situation and expectations are shown in Figure 1.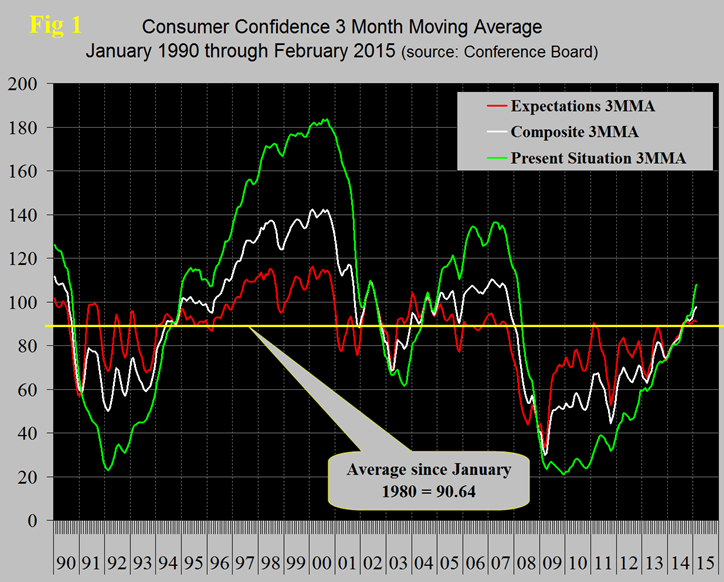 As with other indicators such as job creation, the recovery from the last recession has been slower than for previous recoveries. The present situation component has been much more volatile over each multiyear time span than expectations since our data began 35 years ago with higher highs and lower lows. The view of the present situation moved ahead of that for expectations in October for the first time since the recovery began in 2009. If history continues to repeat itself, the view of the present situation will now move ahead and widen the differential between it and expectations. On a year over year basis using a 3MMA the composite is up by 19.4 led by consumer's view of the present situation which is up by 30.1 (Table 1).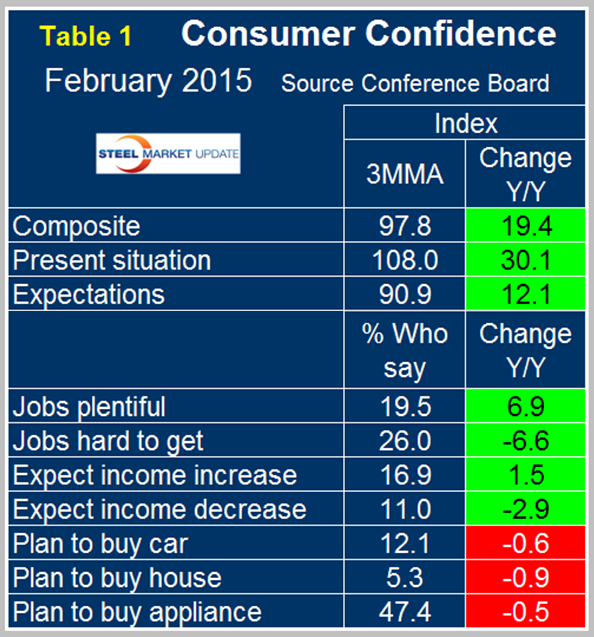 The employment sub-indexes, job availability and wage expectations, continue to improve on a 3MMA basis. The pattern (color code) of auto, housing and appliance purchase intentions were unchanged for six months May through October but changed in November when automobiles became negative and appliances became positive. After two months in negative territory, plans to buy a car became positive in January then reversed course again in February. May was the first time in over a year that housing had been negative, and it has remained so ever since. Plans to buy an appliance became negative in February for the first time since October.
The official statement from the Conference Board which considers only month over month changes reads as follows:
The Conference Board Consumer Confidence Index, which had increased in January, declined in February. The Index now stands at 96.4 (1985=100), down from 103.8 in January. The Present Situation Index decreased to 110.2 from 113.9, while the Expectations Index declined to 87.2 from 97.0 in January.
The monthly Consumer Confidence Survey, based on a probability-design random sample, is conducted for The Conference Board by Nielsen, a leading global provider of information and analytics around what consumers buy and watch. The cutoff date for the preliminary results was February 12.
According to Lynn Franco, Director of Economic Indicators at The Conference Board: "After a large gain in January, consumer confidence retreated in February, but still remains at pre-recession levels (September 2007, Index, 99.5). Consumers' assessment of current conditions remained positive, but short-term expectations declined. While the number of consumers expecting conditions to deteriorate was virtually unchanged, fewer consumers expect conditions to improve, prompting a less upbeat outlook. Despite this month's decline, consumers remain confident that the economy will continue to expand at the current pace in the months ahead."
Consumers' appraisal of current conditions was moderately less favorable in February than in January. Those saying business conditions are "good" decreased from 28.2 percent to 26.0 percent, however those claiming business conditions are "bad" decreased from 17.3 percent to 17.0 percent. Consumers were also somewhat less positive in their assessment of the job market, with the proportion stating jobs are "plentiful" decreasing slightly from 20.7 percent to 20.5 percent, and those claiming jobs are "hard to get" increasing from 24.6 percent to 26.2 percent.
Consumers' optimism about the short-term outlook was considerably less positive in February. Those expecting business conditions to improve over the next six months decreased from 18.9 percent to 16.1 percent, while those expecting business conditions to worsen increased from 8.2 percent to 8.7 percent.
Consumers' outlook for the labor market was also less optimistic. Those anticipating more jobs in the months ahead decreased from 17.3 percent to 13.4 percent. However, those anticipating fewer jobs declined from 14.8 percent to 14.3 percent. The proportion of consumers expecting growth in their incomes declined from 19.5 percent to 15.1 percent. The proportion expecting a decrease rose from 10.8 percent to 12.0 percent.
Sources: The Conference Board and February 2015 Consumer Confidence Survey.

About The Conference Board
The Conference Board is a global, independent business membership and research association working in the public interest. Our mission is unique: To provide the world's leading organizations with the practical knowledge they need to improve their performance and better serve society. The Conference Board is a non-advocacy, not-for-profit entity holding 501 (c) (3) tax-exempt status in the United States.

Latest in Economy