Steel Products Prices North America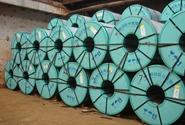 February Foreign Steel Import Analysis
Written by John Packard
March 3, 2015
---
Every week the US Department of Commerce (US DOC) releases steel import license data for those months that have not had Preliminary Census or Final Census data announced. The latest license data was released this afternoon covering the month of February through today. Since we are so early into the month of March SIMA did not provide any data, which is fine, as we would have ignored that data anyway as we concentrate our analysis on the February foreign steel import numbers.
SMU Note: Please be advised that the US DOC releases the data in metric tons. Steel Market Update converts all of the data into net tons (2,000 pounds per 1 net ton).
It is very important that our readers understand how the license data system works. We have an excellent article on our Blog by David Phelps, former director of the American Institute for International Steel (AIIS). The article explains some of the nuances of the USDOC Steel Import Monitoring Analysis (SIMA) program and we highly recommend our members review it from time to time.
The month of January is an excellent example of a month showing more licenses than what the Census data is indicating. The SIMA licenses for January totaled 4,417,733 net tons while the Preliminary Census Data has the number at 4,250,041 net tons, an almost 200,000 ton difference.
This is one of the reasons you will see us couch our numbers by providing a range or advising that the number is part of a "trend" and not the final analysis.
As we look at the month of February, the SIMA license data released today is showing 3,773,845 net tons. We believe that when the Census numbers are released for February we should be somewhere from 3,600,000 to 3,900,000 net tons of foreign imports received during the month.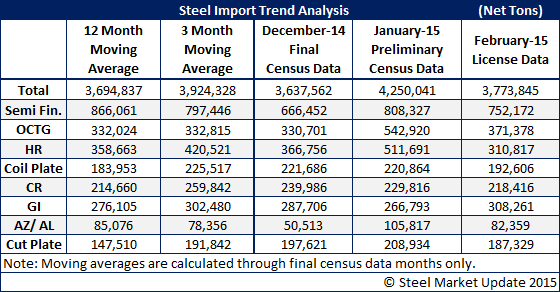 What we want to concentrate on this evening is to review some of the largest countries exporting products to the United States and point out any anomalies we see in the numbers (surge in exports, reduction in exports, etc.).
Hot Rolled Coil
South Korea is the largest exporter of hot rolled to the United States during the month of February. South Korea requested 85,120 tons of the 310,817 tons of licenses requests made by all nations. For South Korea this is in line with their February 2014 total and below December 2014 and January 2015 levels (101,160 net tons & 124,121 net tons respectively).
Russia, with the elimination of the Suspension Agreement, dropped from 67,652 net tons in February 2014 to zero tons. Russia also dropped their plate in coils and plates in sheets exports to zero as well.
Other major exporting countries for hot rolled coil during the month of February were: Canada (48,790 tons), Brazil (33,043 net tons), Turkey (29,071 tons), Netherlands (28,071 tons), Australia (16,769 tons) and France (15,969 tons).
Compared to December, January, the 12 month moving average and 3 month moving average, hot rolled imports were down in February. Compared to February 2014 HRC imports were down slightly this year.
Cold Rolled Coil
Cold rolled saw China as the largest exporter during the month of February with 62,150 tons of license requests out of 218,416 total tons requested by all nations combined. China's tonnage is approximately double that of one year ago. It is also higher than their December and January exports of the product.
Canada was the next closest exporter to China with about half of the license requests (31,289 tons) followed by Brazil (21,781 tons), India (19,550 tons) and South Korea (15,548 tons).
Cold rolled imports were very close to their 12MMA although lower than both December and January as well as the 3MMA.
Galvanized
China exports of hot dipped galvanized coil surged during the month of February with the Chinese mills responsible for 116,960 tons of the 308,261 tons of licenses requested by all nations combined. The Chinese exported more in February than they did in December and January combined.
Canada and India were the runner ups with 57,558 tons and 44,088 tons, respectively.
For the month, galvanized exports to the U.S. were above the 12MMA as well as December and January. In February 2014 the U.S. imported 230,022 tons – almost 100,000 tons less than this year.
Galvalume
Galvalume imports, which just one year ago was 56,500 tons, saw this year's February license data grow to 82,359 tons. The total is less than January as well as the 12MMA and was very close to the 3MMA.
The two dominant exporters for AZ were Taiwan (40,263 tons) and South Korea (21,412 tons). Mexico was a distant third with 7,956 tons.

Latest in Steel Products Prices North America