Shipping and Logistics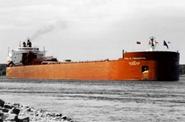 Preparations Underway for Great Lakes Shipping Season
Written by Sandy Williams
March 5, 2015
---
With less than three weeks to go before the Soo Locks are scheduled to open on March 25 the Great Lakes are 80.4 percent covered in ice.
The heaviest concentrations of ice are Lake Superior, Huron and Erie at 95 to 96 percent coverage. The ice comparison below from the Great Lakes Environmental Research Laboratory (GLERL), shows last year's coverage of 91 percent exceeded the current ice coverage of 80.4 percent on March 4. The amount of ice coverage and thickness varies from day to day depending on weather conditions. The highest amount for this year so far was 88.75 percent on February 2. Ice thickness on Lake Erie has been reported at 8 to 10 feet thick in some spots.
GLERL ice-climate forecaster Jia Wang expects this year's coverage may exceed the high of 92.6 percent recorded on March 6, 2014. Wang says the heavy ice will slow the shipping season again this year.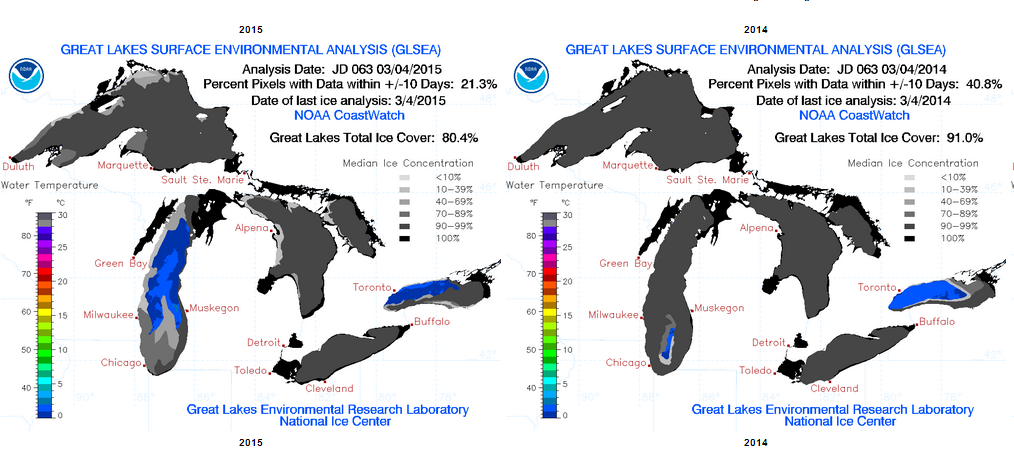 Lt. Davey Connor, Public Affairs Officer U.S. Coast Guard 9th District, told SMU although ice coverage made a slow start this winter, there is more ice on the lakes this year than last.
Connor explained that the Soo Locks are mandated to open at a certain time each year. Last year the first convoy to cross Lake Superior after the locks opened took nine days. The heavy ice and delay prompted the district commander to send a letter to the ore and shipping industry requesting shipments be delayed until ice conditions improved. Although there are no plans at this time to request a delay in 2015, the option remains open. Connor says it premature to predict ice conditions for March 25 but the Coast Guard is mindful of the need to get ore to the steel mills and for commerce to proceed on schedule.
The US Coast Guard operates nine ice breaking cutters on the Great Lakes. One, said Connor, is currently in Baltimore, Md., undergoing maintenance. The Coast Guard regularly rotates ships for maintenance to keep the fleet in top condition. Connor noted that the U.S. and Canadian Coast Guard work seamlessly together to escort ships of both nations through the Great Lakes. There are three Canadian cutters that District 9 works most closely with.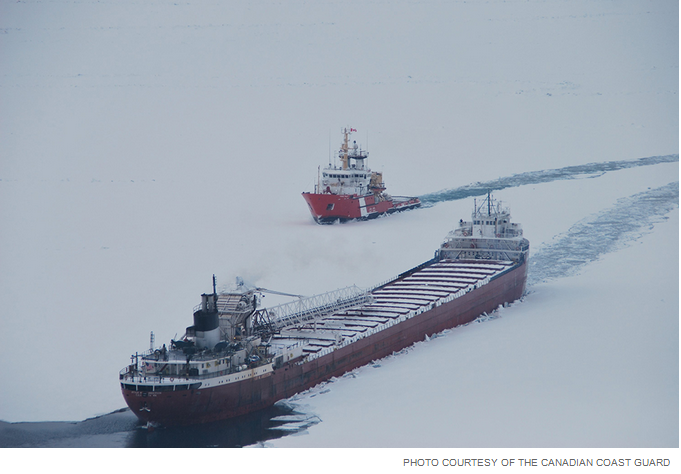 Three US and Canadian Coast Guard Cutters recently escorted an ore freighter across three lakes for an aborted attempt to pick up its last cargo. The lake freighter Arthur M. Anderson finally made it to port in Sturgeon Bay on March 4 after leaving Gary, Ind. February 6 to pick up iron ore in Ohio. The freighter became stuck several times requiring Coast Guard assistance. The USCG Bristol Bay became stuck herself in the process. Food and supplies had to be flown in by helicopter for the stranded ships. Anderson never made it into the port at Conneaut, Ohio due to the impenetrable ice on Lake Erie and the ship returned to its home port empty.
Cliffs Natural Resources is one of the main ore suppliers to mills along the Great Lakes. In 2014, a combination of logistics, polar vortex, and too much inventory that wasn't moved before winter set in caused delay of ore shipments, said Patricia Persico, Director, Global Communications. Cliffs moves iron ore pellets from the ore facilities in Minnesota and Michigan to ports by rail. Because of rail availability issues last year, the Hibbing taconite operation resorted to trucks to ship ore to ports. Cliffs was eventually able to make up for the delays.
Persico does not expect a repeat of 2014 as Cliffs has less inventory on the floor and customers have more product on hand than they did last year. Ore is already at the ports waiting for the season to open.
ArcelorMittal reports that they are in good shape for the season. "ArcelorMittal has been working with key suppliers since late last year to prepare for a potentially harsh winter and, as a result, we are well positioned at targeted raw material levels," said ArcelorMittal spokesperson in an email to SMU.
ArcelorMittal's three integrated facilities on the Great Lakes depend on waterway shipping for raw materials, including approximately 21 million tons of iron ore annually.
"The situation faced last winter, and again this year, underscores the need for Congress to support the valuable work of the US Coast Guard's heavy icebreaker Mackinaw and pass the Water Resources Development Act, which will provide crucial funding to the Army Corps of Engineers for the maintenance and modernization of our waterways," said ArcelorMittal.

Latest in Shipping and Logistics