Steel Products Prices North America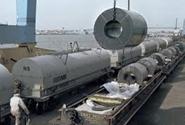 January Steel Exports Analysis
Written by Brett Linton
March 10, 2015
---
January steel exports totaled 925,428 net tons (839,535 metric tons), down 0.4 percent over December and down 3.9 percent from January 2014. Total January figures are below both the thee month moving average (3MMA) and the twelve month moving average (12MMA). Here is a breakdown of flat rolled and plate exports:
Cut plate exports declined 13.3 percent from December to January to 106,195 tons, and were down 1.9 percent compared to levels one year prior.
Exports of coiled plate were 38,837 tons in January, down 3.9 percent month over month and down 7.6 percent year over year.
Hot rolled steel exports declined 4.4 percent month over month to 66,220 tons, but were up 8.4 percent from January 2014 levels.
Exports of cold rolled products were 59,368 tons in January, up 24.4 from December and up 13.8 over the same month last year.
Galvanized exports increased 22.8 percent month over month to 119,152 tons. Compared to one year ago, January levels were up 2.9 percent.
Exports of all other metallic coated products came in at 22,645 tons, a 14.1 percent increase from last month but a 22.8 percent decrease compared to one year ago.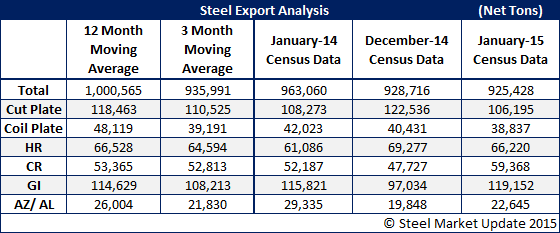 Below is an interactive graphic of our Steel Exports History by Product, but it can only be seen when you are logged into the website and reading the newsletter online. If you need any assistance logging in or navigating the website, contact us at info@SteelMarketUpdate.com or 800-432-3475.
{amchart id="107″ Total Exports- All Products, Monthly, Net tons}

Latest in Steel Products Prices North America