Steel Products Prices North America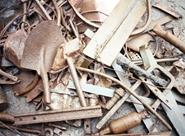 US Scrap Exports through January 2015
Written by Peter Wright
March 11, 2015
---
In the twelve months of 2014, scrap exports totaled 15,308,000 tonnes, down by 17.1 percent from the same period in 2013. In the single month of January 2015 exports were 1,148,422 which is an annual rate of 13,781,062 tons. Figure 1 shows that the monthly average declined for three consecutive years, 2012 through 2014 and illustrates January's continuing decline.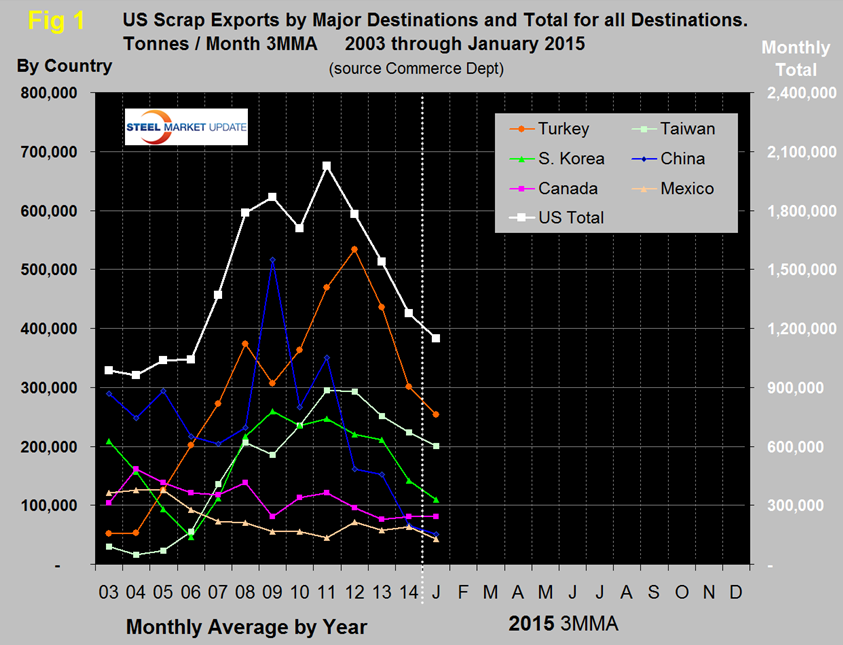 So far this year, twenty four countries have eased monetary policy, South Korea being the latest. Interest rates and currencies vs the US dollar are declining across the world which is negatively impacting US trade by reducing exports and increasing imports. The decrease in scrap exports is a case in point. The Euro fell to a twelve year low against the dollar this week making European scrap more desirable for Turkish buyers.
Of the major scrap buying nations shown in Figure 1, only Canada bucked the trend by increasing its purchases of US scrap in January. Turkish purchases are currently at their lowest level since 2006. Shipments to the Far East have been negatively impacted by both the labor dispute at West Coast ports and by the depreciated Japanese yen. In the single month of January, purchases of US scrap by Chinese mills were 35,211 tons which was the lowest month since our data began in January 2003. Tonnage to Mexico has been fairly consistent since 2009.
Shipments to secondary buying nations totaled 169,000 tonnes in January. Of this 55,000 tonnes shipped to Peru, 43,000 tonnes to Saudi Arabia and 44,000 tonnes to Kuwait.
Scrap export prices are reported by the AMM every Tuesday for an 80:20 mix of #1 and #2 heavy melt in US $ per tonne FOB New York and Los Angeles for bulk tonnage sales. This week, the price on the East Coast rose for the second straight week from $230.17 on February 23rd to $247.25 and the price on the West Coast rose from $225.35 to $233.25.

Latest in Steel Products Prices North America