Steel Mills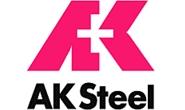 Imports to Impair AK Steel Earnings in Q1
Written by Sandy Williams
March 20, 2015
---
Unfairly traded imports are negatively impacting AK Steel earnings in the first quarter of 2015. AK Steel expects a net loss of $0.23 to $0.28 per diluted share in the first quarter due to low carbon steel shipment and spot prices as a result of "unexpectedly" high levels of imports.
Shipments are expected to decrease by 14 percent from Q4 for an approximate total of 1.73 million tons. Demand from the automotive market remains strong.
Average selling price of $995 per ton in Q1 is up about one percent from Q4 due to a higher percentage of value-added steel shipments, however, carbon steel spot prices have declined throughout first quarter due to increased imports.
AK Steel attributes the strength of the U.S dollar and "excess global steelmaking capacity and continued challenging global economic conditions" to the rise in steel imports into the U.S. "Imports of flat rolled carbon steel products increased by nearly 60% in 2014, and have averaged more than one million tons per month in January and February of 2015," noted AK Steel in the guidance statement.
AK Steel expects the benefits from lower raw material and energy costs to be "significantly out-weighed" by lower shipments and selling prices in the first quarter.
Latest in Steel Mills