Economy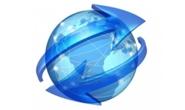 Tiny Change in Global PMI in March as Expansion Continues
Written by Sandy Williams
April 2, 2015
---
Global manufacturing continues to expand at a slow and steady pace. The JP Morgan Global Manufacturing PMI registered 51.8 from 51.9 in February. Manufacturing growth has been sustained for twenty-eight consecutive months.
"The March PMI surveys suggest that the global manufacturing sector continued to make steady progress, with rates of expansion in output and new orders staying close to the solid rates seen in recent months," said David Hensley, Director of Global Economics Coordination at JP Morgan. "The decline in the finished goods inventory index also is a positive sign. With official data showing that global IP growth weakened during 1Q, the resilience of the global PMI offers hope for a quick bounce back in production gains in 2Q."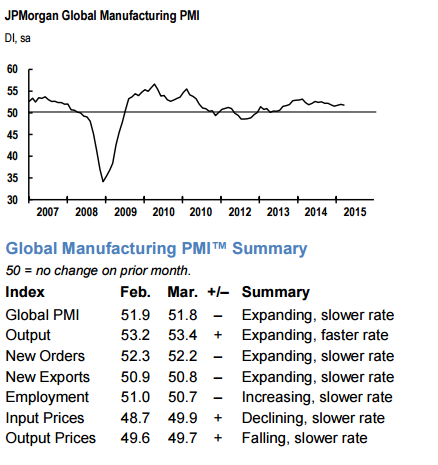 The Markit Eurozone Manufacturing PMI was at a 10 month high in March registering 52.2, up from 51.0 in February. Ireland and Spain led the growth with 2-month highs each. Most countries in the EU were in the growth range except for Greece, France and Austria which remained in contraction. Greece and the France, however, saw improvement, moving to a 3- and 2-month high in March, respectively. Austria registered 47.7 for a 4-month low.
The weaker euro has boosted exports and made competing imports more expensive. New orders are up and payroll numbers increased at the fastest rate in three-and-a half years.
"This is still a fledgling recovery, however, and the overall rate of expansion remains only modest. Importantly, manufacturing is still in decline in France, Greece and Austria, acting as drags on the region's revival," commented Chris Williamson, Chief Economist at Markit.
China manufacturing conditions deteriorated in March. New orders had a modest decline for the first time since December and job shedding rose at the quickest rate in seven months as companies downsized. The Composite PMI contracted to 49.6, down from 50.7 in February. Production levels continued to increase for the third month but at a slower rate. Inventories declined somewhat but were still at high enough levels to discourage purchasing activity during the month. Input costs and output charges also declined but at the slowest rate since August. Profit margins continued to be squeezed as cost savings were passed to customers to encourage new business.
Markit economist Annabel Fiddes said, "The sector continues to struggle to gain growth traction. The latest data indicate that domestic and foreign demand remains subdued amid weaker market conditions, which dampened output growth as a result."
In South Korea the composite PMI fell into contraction at 49.2. Production fell on low order volumes and poor economic conditions. New export orders decreased marginally, sliding for the first time since December as foreign demand weakened. Domestic demand was also viewed as weak. Raw material prices fell, in particular oil, increasing price competition and negotiations which further drove down selling prices.
Japan just barely stayed in growth territory after falling from 51.6 to 50.3 in March. New order and production slowed, resulting a drop in employment levels for the first time in six months. Weak domestic demand was attributed to the decline in output growth as exports remained strong. The favorable yen/dollar rate helped improve price competiveness. Depreciation of the yen, however, contributed to steep hikes in imported raw material prices. Higher trade volumes were noted with China, Korea, the US and Europe.
Operating conditions were considered "challenging" in Russia as the HSBC PMI fell to 48.1 from 49.7. The PMI has been in contraction for the past four months. New orders and output showed moderate declines. Exports fell sharply in March although demand domestically appeared to be stabilizing. Tentative signs of diminishing excess capacity were noted by a drop in backlogs.
In North America, Mexico showed signs of slowing in manufacturing growth. The PMI posted 53.8 down from 54.4 in February. Production growth, although still robust, eased for the second month in a row as new domestic and export orders increased only marginally. Job creation picked up to the second fastest rate since October 2012 on optimism for future demand. Pressure on margins was noted from rising put costs.
In Canada, the downturn in business conditions appeared to slow in March. The RBC Canadian Manufacturing PMI inched up to 48.9 from 48.7 in February but remained in contraction below the 50.0 neutral point for the second month in a row. Employment levels declined for the third consecutive month. The rate of decline of new orders and output slowed in March. Low oil prices weighed heavily on the energy sector as investment spending continued to decline.
"In response to the weaker demand environment, manufacturers are exercising caution in terms of job hiring and inventory levels," said Cheryl Paradowski, president and chief executive officer, SCMA. "However, the speed of the downturn moderated in March, and regional data indicated that the latest reduction in export sales was largely confined to Alberta & British Columbia. As a result, despite a further drop in overall workloads, there are some early signs that the benefits of a weaker exchange rate are starting to feed through to the manufacturing sector."
The Markit US Manufacturing PMI indicated a rebound in output and new orders. Exports were flat due to the strong dollar exchange rate. Momentum is returning after a slow start in 2015, commented Tim Moore, Senior Economist at Markit. "Improving domestic economic conditions remain the key growth driver for U.S. manufacturers, with consumer goods producers recording an especially robust upturn in March."

Latest in Economy