Steel Products Prices North America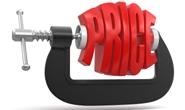 Comparison Price Indices: Prices Drop & Spread Narrows
Written by John Packard
April 3, 2015
---
Flat rolled steel prices continued to slide their slide this past week according to all of the steel price indexes followed by Steel Market Update. Benchmark hot rolled dropped to $460 per ton ($459 at CRU), down $10-$12 per ton depending on the index chosen.
A number to keep in mind: $390 per ton. That is the lowest average hot rolled number reported by Steel Market Update at the low point during the Great Recession.
Cold rolled numbers dropped to an average of $589 per ton with SMU taking the biggest dip down to $580 per ton.
Galvanized and Galvalume numbers also took large dips while plate was the one product which barely moved.
The large adjustment seen in cold rolled and coated was related to the spread narrowing to more historical averages with hot rolled. A normal spread is $100 to $120 per ton with $140 spreads being seen when cold rolled or coated markets are much stronger than the HRC markets.

FOB Points for each index:
SMU: Domestic Mill, East of the Rockies.
CRU: Midwest Mill, East of the Rockies.
SteelBenchmarker: Domestic Mill, East of the Mississippi.
Platts: Northern Indiana Domestic Mill.
Note that SteelBenchmarker produces numbers twice per month. On the weeks they produce numbers we will include them in the average. The weeks where they do not produce numbers (NA = not available) we will not include their outdated numbers in the CPI average.

Latest in Steel Products Prices North America