Steel Mills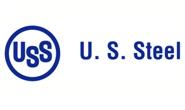 US Steel Layoffs Continue with 165 Employees at Irvin Plant
Written by John Packard
April 6, 2015
---
On Easter Sunday, US Steel began the layoff of 165 employees at its Irvin plant at Mon Valley Works in West Mifflin, Pa. The layoffs are expected to be short term and according to Local Union 2227 President Kevin McKelvey, some of the workers could be back on the job as early as next week.
McKelvey, in a TribLive report, said US Steel held two days of informational meetings last week before the layoffs began. Mon Valley Works includes Irvin, Edgar Thomson, Clairton and Fairless Hills plants, employing nearly 3000 workers combined.
The Irvin Plant is a finishing mill (no steel making) which has a 80" hot strip mill, 2 pickling mills, 5-stand cold reduction mill, temper mill, continuous annealing line (for cold rolled), box annealing and three coating lines. The coating lines are two hot dipped galvanizing and one Terne production mill.
US Steel has issued 7252 layoff notices since the beginning of the year affecting workers in Indiana, Illinois, Ohio, Pennsylvania, Texas, Alabama, and Minnesota.
The company has been adjusting production due to challenging market conditions that include high influx of steel imports, depressed steel prices and fluctuating oil prices.
Last week US Steel said that it would temporarily idle a portion of the Minntac iron ore operations at the beginning of June. A month earlier the company hit the Keetac iron ore facilities which will be idled in May.
The company has taken down three blast furnaces which would grow to four furnaces should the company follow through with their WARN notices to shut down the Granite City Works.
US Steel has also curtailed multiple pipe operations which have been affected by the demise of the energy sector due to low oil prices and the influx of large amounts of foreign OCTG and line pipe.

Latest in Steel Mills