Steel Products Prices North America
US Steel Reduces Galvanized Coating Extras
Written by John Packard
April 9, 2015
---
US Steel has revised their galvanized coating extras to those being used prior to October 1, 2014 when the last change was made. The new extras are lower than those used this past year. Here are the new extras being charged: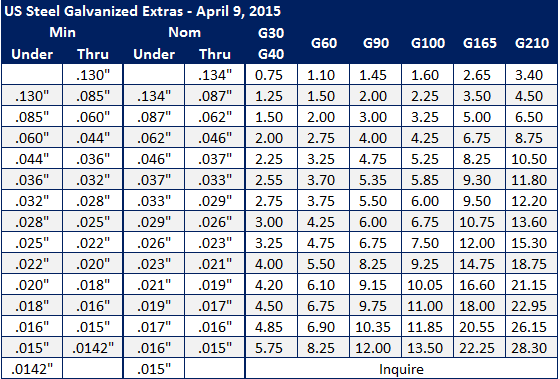 The change in extras came as a surprise to some within the industry as zinc spot pricing has been rising recently on the LME. Zinc closed this afternoon at $0.9828 per pound. Over the past 30 days zinc prices are almost $0.10 per pound higher than the $0.8897 per pound reported on the 11th of March. When the extras were originally adjusted by US Steel in August 2014 to take effect October 1, 2014 spot zinc prices were close to $1.10 per pound. By October 1, 2014 prices had begun to drop and continued to drop for most of 2014.
Steel Market Update spoke with one US Steel customer about the change in extras and they had this to say on the subject, "Have not heard from them yet, but I have been pestering them about lowering. They kept putting me off. We're only paying "current" higher extras on about 30% of our steel."
Other US Steel customers also advised SMU that they had not yet been contacted by the representative advising them of the coating weight changes.
The new extras can be found on the U.S. Steel website under the "Doing Business"  tab or you can click on the link we have provided which takes you to the new extras on the US Steel website.
The table below compares the old extras just replaced with the new extras so you can see what changes were made. For example .0296" G90 galvanized coating extra was reduced by $1.10/cwt: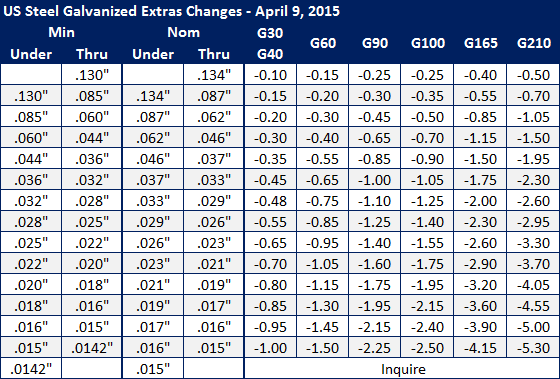 Latest in Steel Products Prices North America