Steel Products Prices North America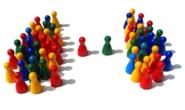 Nucor and SSAB Join Forces Against Chinese CTL Steel Plate
Written by Sandy Williams
May 4, 2015
---
On May 1, Nucor Corp. and SSAB Americas filed a joint request asking the Department of Commerce to find that Chinese producers of cut-to-length (CTL) steel plate are circumventing the antidumping order on CTL plate from China.
According to documents submitted to the DOC, Chinese plate producers are adding small amounts of alloys, such as chromium and titanium, to carbon steel plate to classify the plate as "alloy," thus avoiding antidumping duties.
A SSAB said in a statement, "With this petition, SSAB is letting government officials know that the actions of Chinese producers are unacceptable. We are asking the DOC to intervene on behalf of the US steel industry, ruling all steel Chinese-origin plate marketed, priced and sold in the United States as commodity carbon steel plate is within the scope of anti-dumping duties."
All but one Chinese plate producer/exporter, Hunan Valin Xingtan Iron and Steel, is subject to a duty rate of 128.59 percent. Hunan Valin, which currently has a zero percent dumping deposit rate, was singled out as an example of an offender in the practice of alloy addition.
"This request was filed in response to rapid increases in extremely low-priced Chinese CTL plate imports and evidence of repeated attempts by Chinese producers to circumvent the antidumping duty order," said a source close to the petitioners.
The practice of adding alloys to carbon steel products is not a new one. In 2009 and 2011 Chinese producers Tianjin Iron and Steel and Wuyang Iron & Steel Co. were found to be evading the CTL order by adding boron to their steel products.
"However since, then, Chinese producers have continued to invent ways to game the systems and evade duties," said the source. "An affirmative ruling on this request would shut down these new methods of circumventing the order.
The high level of steel imports from China has been a concern across several product categories including steel plate, flat-rolled, and OCTG products. In 2014, import of Chinese CTL plate doubled from 2013 levels. In the first three months of 2015, CTL imports grew by another 165 percent (when compared to the same period in 2014). The plate is being sold well below US market prices, injuring U.S. plate producers.
"These Illegally traded imports continue to pour into the US at record pace, undercutting demand for domestically-produced product and posing a serious threat to our industry," said SSAB.
Nucor and SSAB have asked the DOC to expedite its ruling and find that "Chinese imports of CTL plate products that include small amounts of alloying elements, but that are being marketed, priced and sold in the United States as commodity-grade steel plate and made to specifications considered to be carbon steel specifications in the market (e.g., ASTM A36 and A572), are within the class of merchandise subject to the antidumping duty order."
The DOC has 45 days to either issue a final ruling or initiate an anti-circumvention inquiry.

Latest in Steel Products Prices North America